ECC Conducts Welding Training Session at Ziglin
Five employees at Ziglin Signs, Washington, wrapped up a unique on-site training session last week that was led by the East Central College Center for Workforce Development (CWD).
The four-day training focused on aluminum welding techniques. It was taught by ECC Welding Program Coordinator and instructor Bobby Bland and Cliff Cartwright, welding adjunct.
Bland explained that Ziglin representatives met with CWD to discuss options that would increase quality and production within the company's welding department.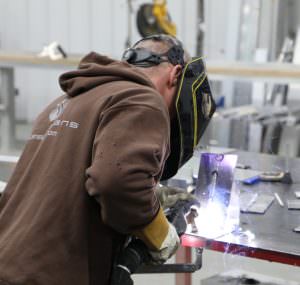 He added that Bland, Cartwright and five Ziglin employees met in a conference-style setting and then moved to Ziglin's welding room floor to work
"We mapped out opportunities to increase quality and production, as well as, reduce redundancy within the welding division in the company," Bland said. "After discussing topics, we applied the information in the welding room by demonstrating different techniques and allowing the Ziglin employees to perform them.
"This was a very exciting training session and Ziglin is an awesome company with a great team," he added.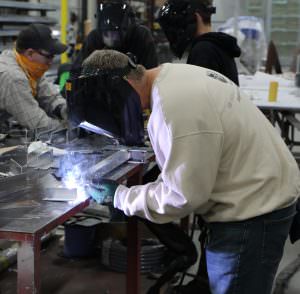 ECC's welding trainers have more than 40 years of combined experience in the field.
According to Melissa Richards, CWD apprenticeship and business training program coordinator, the session with Ziglin was part of ECC's customized training program.
Richards said the CWD customized training funds can be tailored to fit the needs of any industry.
"We offer customized training programs in welding and other technical fields, such as industrial maintenance and machining," she said. "Not only can we fit a variety of needs for local companies, we also work to provide funding to help offset training costs to help a company's money go further for employee development."
To find out more about CWD customized training, call 636-649-5800 to speak with a training coordinator or welding trainer, or send an email to training@eastcentral.edu.
For more information about ECC's CWD, visit www.eastcentral.edu/cwd/.