ECC, Drury Sign Agreement to Streamline Degrees
A new agreement between East Central College and Drury University is streamlining the path to a four-year degree for business and education students.
The articulation agreement was signed Tuesday during a ceremony at the ECC Rolla North site.
The formal partnership guarantees that the credits for ECC students who have completed an Associate of Arts in Teaching (AAT) degree or an Associate of Arts (AA) degree in Business will transfer seamlessly to Drury University.
Robyn Walter, ECC vice president of academic affairs, said this agreement between the schools will help students navigate the pitfalls to ensure an easier, more successful transition.
"An articulation agreement such as ours is designed to create an uninterrupted transfer experience for students moving from community college to four-year institutions," she said. "In particular our Teacher Education and Business students now have this invaluable resource for transfer with our partner, Drury University."
According to Dr. Regina Waters, Drury associate provost for adult, online and graduate programs, the primary focus of the agreement is the needs of students.
"This partnership provides business and education students with a seamless transition to Drury University for degree completion," she added. "We are so pleased that East Central College shares our commitment to putting students' needs first."
The agreement states that once the ECC students meet Drury admission standards, they will be enrolled as juniors at the university.
Walter noted that this partnership leads the way for additional agreements between the institutions.
"This is just the beginning — the efforts thus far lays a solid groundwork for future programmatic specific agreements," she said. "We look forward to enhancing this relationship and, in turn, enhancing the success of our students and community."
Walter said ECC faculty and staff members Greg Stotler, ECC education instructor, Dr. Richard Hudanick; ECC dean of career and technical education; and Lisa Hanneken, accounting instructor were instrumental in moving the articulation agreement forward.
"We appreciate the faculty and staff involvement for making this work," she said. "They worked with Drury faculty and staff to develop a seamless transition for our students."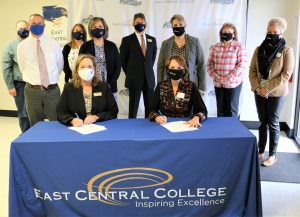 Attending from ECC were Christina Ayers, ECC Rolla director; and Dr. Reginald Brigham, mathematics instructor and department chair; Jenni Crosby, ECC Rolla assistant director; Hudanick and Stotler.
Drury Representatives at the ceremony were Kerstin Ellis, director of Drury GO Rolla; Dr. Leasa Richards-Mealy, business instructor; and Kimbrea Browning, executive vice president of enrollment management and operations.
To learn more about ECC's degree programs, visit EastCentral.edu. Visit Drury.edu to learn about Drury University's programs and degree options.