Governor Tours Pacific Plant that Partners with ECC
Missouri Gov. Mike Parson toured Klauber Machine & Gear (KMG) Tuesday to highlight the Missouri One Start program.
KMG utilized the customized training assistance which has helped to develop its workforce, and East Central College has been there every step of the way.
Gov. Parson said the state made workforce development a priority two years ago, and Missouri is seeing the dividends from that commitment at industries like Klauber.
"I am so thankful we made that (workforce development) decision," he said. "That gives us the tools we need to keep moving forward."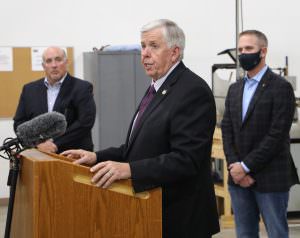 For over two years, ECC's Center for Workforce Development (CWD) has been in Kluaber's conference rooms and on the plant floor helping the manufacturer build a strong and knowledgeable workforce.
"ECC is committed to workforce development in our community," said ECC President Dr. Jon Bauer. "The economic growth of our local manufacturers is strengthened by a skilled and well-trained workforce.
"East Central faculty and staff work closely together to provide this training, and to ensure we are producing graduates to fill the demand in the field," he added.
KMG is an international industrial equipment supplier that specializes in the design and manufacturing of fractional horsepower gear motors.
"We are proud to have a company like Klauber operating in our state and providing quality jobs to our citizens," Gov. Parson added.
He noted that KMG is committed to retaining 460 jobs, which supports the local economy and many Missouri families.
ECC has partnered with Klauber since 2018 through a training and development relationship.
Through that relationship, ECC has utilized $58,000 in customized training funds from the Missouri Department of Economic Development (DED) One Start program, according to Dr. Ed Shelton, Executive Director of Workforce Development at ECC.
"We coordinated with Klauber to meet their need for competence machine and tool operators," Dr. Shelton explained.  "ECC built a competency skill development program that provides skill training, safety programs and training, and frontline leadership workshops to provide a vertically integrated program."
KMG employees enrolled in an apprenticeship program at ECC and $5,000 of the state funds were applied toward their tuition and books.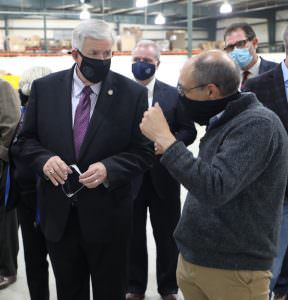 Training
Dr. Shelton said ECC has taken an unique approach to this training partnership by developing a mentor/instruction method.
Under this method, Curtis Elliot, program coordinator of ECC's Precision Machining Technology, worked with KMG employees on the production line twice a week and gave an assessment of the operator's skills.
"This unique brand of training helped Klauber to reach higher efficiencies and productivity levels than ever before in Klauber production history," Dr. Shelton commented. "The frontline leadership training has led to these competent operators remaining at Klauber due to a worker-friendly environment by supervisors who understand the importance of motivation and worker satisfaction."
KMG also works with The Quality Coach, which provides leadership and managerial training to the manufacturer. Jeanne Gladden, co-founder of the training firm, also attended the tour at the Klauber plant.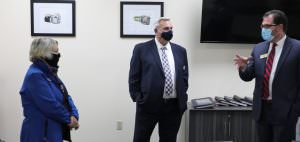 One Start Grants
Missouri One Start grants range from $5,000 to $50,000 this year.
Training provided by the ECC CWD ranges from leadership development, safety training, introductory welding programs, project management to LEAN and Six Sigma training.
Each company matches 100 percent of the state funding. Learn more about the program by contacting the CWD team at training@eastcentral.edu, or visit missourionestart.com/.
To learn more about CWD industry training and consulting visit www.eastcentral.edu/cwd/.