Grad Earns First-Ever Gulstad Full-Tuition Scholarship to CMU
East Central College alumna and aspiring elementary school teacher, Katie Rushing, has been awarded the first-ever Gulstad Full-Tuition Transfer Scholarship to Central Methodist University (CMU).
Rushing, of Washington, who graduated from ECC in May with an Associate of Arts in Teaching degree, is the recipient of this prestigious scholarship, which covers the full cost of tuition. The Gulstad Full-Tuition Transfer Scholarship is exclusively available to students attending one of CMU's extended sites, such as the ECC campus in Union.
"Katie is a driven and remarkable student," stated ECC President Dr. Jon Bauer. "We are immensely proud of her accomplishments, and we have no doubt that she will continue to excel at CMU."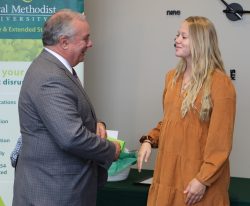 The scholarship is named after longtime CMU Provost Dr. Rita Gulstad, who emphasized that the full-tuition scholarship was established with students like Rushing in mind.
"This scholarship was created to recognize excellence among our community college graduates," noted Rita Gulstad. "Katie is seeking a bachelor's degree in elementary education because she is passionate about working with children and she desires to make a positive impact on students' lives."
Gulstad also highlighted Rushing's active involvement in her community, including her role as a certified substitute teacher and her volunteer work in her church parish.
"Katie says she chose East Central because it is friendly and affordable, but also to stay close to home so she could continue to support her community," she commented. "That is why she also chose CMU."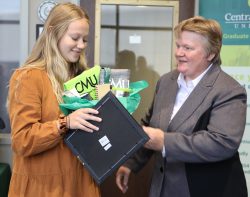 ECC and CMU have maintained a strong partnership, providing educational opportunities for Franklin County area residents for three decades. Central Methodist University has been operating on ECC's campus since 1992.
"Central Methodist has been an outstanding partner for 30 years," Bauer remarked. "Countless individuals have earned their bachelor's or master's degrees in the area without having to leave, which is a tremendous benefit."
To learn more about scholarship opportunities at ECC, including the Central Methodist University Gulstad Transfer Scholarship, visit https://www.eastcentral.edu/finaid/scholarship-opportunities/.