ECC Using Innovative X-Ray 'Phantom' for Revolutionary Radiologic Tech Training
When it comes to training in the Radiologic Technology program at East Central College, authenticity reigns supreme — and the students in the Rad Tech program in Rolla are stepping into a groundbreaking learning experience.
The students are now learning on an x-ray "phantom" that houses a complete human skeleton inside — an innovative learning tool that will revolutionize the hands-on training for students in the program.
Phantoms are used as a stand-in for human tissue for training purposes. This high-tech model was purchased through a $34,000 United States Department of Agriculture (USDA) grant. It was delivered to ECC in Rolla in July.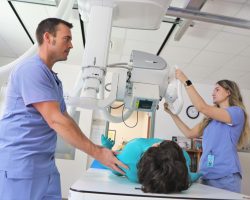 Brandi Grindel, Radiological Tech program director, explained that by engaging with a model made from real human bones, students gain precise training opportunities in positioning and alignment techniques, surpassing what a synthetic phantom could offer.
"This new phantom mimics a real human body that the students would work with in the clinical area," she said. "It makes for a more realistic and real patient scenario for the students."
ECC purchased an Erler Zimmer Natural Bone Full Body X-Ray Phantom from Z&Z Medical, Inc.
Natural bone phantoms provide unparalleled precision, accounting for factors such as weight, mobility, and the accurate representation of organ shadows on bones.
The phantom's fully movable joints allow students to simulate a wide array of x-ray positions, and further enhances their training experience.
100 Percent Placement
The ECC Rad Tech program spans 20 months, during which students receive training on specialized radiography equipment designed to capture images for radiologists to use when diagnosing and treating a range of health issues in patients.
Grindel explained that employment in x-ray technician field is projected to grow.
"COVID-19 had a significant impact on the field of radiology," she said. "With many technologists either deciding to retire, or just simply burned out from working, there are many job openings in radiology right now."
In her current class of 15 students, Grindel noted that seven are already employed as student aids in Radiology departments, and most of them are set to retain these positions after graduation.
"I can't seem to get students out fast enough for employers," she added. "The program itself has had 100 percent job placement rate for the last five years."
Students Benefit
Some saw COVID as a reason to exit health care, the pandemic inspired others, like Timothy Ringeisen, to enter the field.
Ringeisen, 40, Cuba, is a Rad Tech student at ECC. He had been a shop foreman in an automotive repair business for about 20 years.
"When the Covid pandemic started, I saw a need in the health care field and wanted to do something to help," he said. "The Radiologic Technology program sounded interesting to me, and it was a quick way to get me into a hospital and helping people in need of care."
As a first-generation college student and a single father, Ringeisen has overcome challenges to continue his education.
"I am disciplined and motivated to complete the program to the best of my ability," he said, adding that he encourages others to do the same.
"If you have an interest and desire to work in the health care field, but you don't necessarily want all of the patient care responsibilities of a nurse, Radiologic Technology may be a good choice for you — It is a quick way to get your foot in the door, and it is very rewarding."
For Tess Marquart, Washington, radiology was an interest before she graduated high school.
Marquart, 23, became interested in radiology after job shadowing an MRI technician while she was in high school. She already has earned a degree in Exercise and Movement Science from Missouri State. She is in her final year of the Radiologic Technology program at ECC.
One of Marquart's primary educational challenges has been overcoming test anxiety.
"At this point I have found a comfort in testing that I did not previously have," she said. "I prepare myself for tests by switching my anxious thoughts to feelings of excitement."
She also appreciates the support of the program faculty.
"My teachers are incredible. I don't think that I would have had the same experience without them," Marquart added. "They are extremely supportive and intelligent. It really helps to prepare you for your career when you have positive guidance along the way."
New to ECC
The College officially took sponsorship of the Rad Tech program from the Rolla School District in 2021. At that time, it already had been serving the Rolla area for over 40 years.
Because of Rolla's location along Interstate 44, students come from many areas of Missouri. Most students come from Rolla, Salem, Houston, Licking, Fort Wood, Waynesville, Lake Ozark, Lebanon, Sullivan, Cuba, Bourbon, St. Clair, Union, and Washington.
After completing the program, students earn an Associate of Applied Sciences degree and are qualified to take the American Registry of Radiologic Technologist national certification exam. They also have the option to continue their education in multiple areas of radiology.
"About 40 percent of our students go on for a bachelor's degree. Many of them complete this degree while working full time in an x-ray department," said Grindel.
Health Care Partnerships
The program has nine clinical affiliation partnerships that train students. These include Phelps Health, General Leonard Wood Army Community Hospital, Consolidated Medical Troop Clinic, Mercy Hospital in Lebanon, Mercy Hospital in Washington, Texas County Memorial Hospital, Salem District Memorial Hospital, Lake Regional Health System, and Missouri Baptist Hospital in Sullivan, MO.
"Many of our clinical partners are needing radiologic technologists, computed tomography technologists, and ultrasound technologists," Grindel said.
She added that all the students who graduated from ECC's Rad Tech in May 2023 have been hired as radiologic technologist.
For information on the Radiologic Technology program, visit www.eastcentral.edu/allied-health/radiologic-technology/ or contact Nancy Mitchell, dean of health sciences atNancy.Mitchell@eastcentral.edu or 636-584-6619.