Kolb Recognized by Retired Teachers Organization
East Central College English Instructor Leigh Kolb recently was recognized for her exceptional work in the classroom.
Kolb received the 2023 Harold Austin Good Teaching Award in the spring from the East Central chapter of the retired Missouri National Education Association (MNEA-R). George McKee, an MNEA-R member who taught Kolb when she was a high school student, presented her with the award.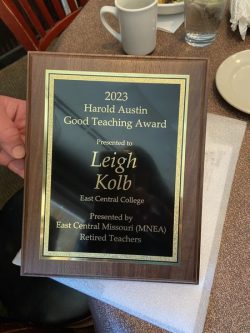 Harold Austin, a founder of the East Central MNEA-R, served as an NEA Director from 1981 to 1984, and held the position of the second president of Missouri NEA from 1974 to 1975.
The award was presented during East Central MNEA-R meeting where members commented on Kolb's well-deserved recognition. ECC President Dr. Jon Bauer also attended the meeting.
"There are very few teachers who can excel at the level of instruction Leigh provides while also staying active in both the college and community," said one of the organization's members.
Kolb previously recieved the Missouri Community College Association (MCCA) Governor's Excellence in Teaching Award in 2014. Additionally, she was a finalist for the 2022 MCCA Excellence in Teaching Award last year.
"Leigh consistently creates an environment that encourages her students to think critically about both the texts they encounter and the world around them," another MNEA-R member commented. "Her's is a voice that always keeps in mind the bigger picture, focusing on what's at stake for us as all as our current and future students."
It was added that Kolb is an unashamed advocate for Diversity, Equity and Inclusion at ECC and the community it serves.