ECC Holds Second Assessment Showcase
The East Central College faculty and staff held the second Assessment Showcase April 30 to exhibit the strategic work the College is doing and to share ideas with colleagues.
Sue Henderson, assistant professor of English and Instructional Assessment Committee chair, said the idea for the showcase spawned from the Higher Learning Commission Assessment Academy to reinforce the importance of assessment across the college.
"Assessment allows us to know for sure that we're doing what we say we're doing, and that we're doing it well," Henderson said. "Assessment isn't always considered the most exciting work, but it is important — and foundational to our mission."
During the assessment event, ECC employees interested in learning about various aspects of assessment could visit poster displays in the Health and Science building, ask questions and debate issues at roundtable discussions, and listen to presentations about enrollment and systematic evaluation processes.
In addition to the in-person discussions and presentations, there were virtual programs highlighting areas of the College.
"The showcase provides an opportunity for all of us to share and celebrate that good work," Henderson added. "We can also get ideas from colleagues about how we might build or refine assessment practices in our own areas."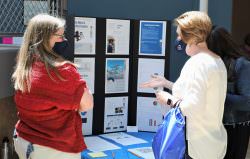 Second Event
The first Showcase Assessment was held in October 2019, prior to the COVOD-19 pandemic.
"(This year) we didn't have as many people in-person for the poster presentation or sessions," Henderson commented. "But we did end up having better than we'd hoped remote participation. It was great to see all the people who joined during the micro-presentations and roundtables."
She noted that remote connectivity was key to the success of this year's event, adding that Andy Kolb, director of web services, set up the event web page to make it very easy to move from one session to the next; and Karen Klos, instructional design specialist, worked with presenters who created recordings.
The ECC Rolla sites were included in the showcase and could view the event virtually.
Next Year
Henderson said there are plans to have the showcase again next year with more in-person sessions and additional time to interact with presenters.
"But there were some great aspects of being able to connect remotely that we might consider continuing," she added. "We loved that folks could connect readily no matter where they were."
Henderson said the hope is that the event grows to include the public in communities ECC serves.
"Someday, we hope to make this an event that reaches beyond just the ECC campus. We'd love to become known in the region as an institution that promotes and celebrates assessment."
To learn more about East Central College's assessment practices, visit https://www.eastcentral.edu/assessment/instructional-assessment/.