ECC Nursing Program Lands in Top 10
The East Central College Nursing program was ranked in the Top 10 in Missouri for Associates Degree in Nursing programs in 2020.
That's according to the Nursing Schools Almanac which compared nursing programs throughout the state. ECC was No. 9 in the rankings.
The methodology used for the rankings was based on the National Council Licensure Examination for Registered Nurses (NCLEX-RN) exam, which is used by all state boards of nursing across the country to help assess a student's competency and is required for licensure.
Nancy Mitchell, interim director of nursing, said she is pleased to be recognized in the Top 10 associate's degree nursing programs in the state for 2020.
"From year to year, ECC's NCLEX-RN pass rates are consistently above state and national averages," Mitchell said. "ECC Nursing has a proud history of successfully educating registered nurses since 1980."
She added that ECC has graduated over 1,000 nursing students over the past 40 years.
"These students have gone on to have successful careers in acute and long term care, community health and hospice, case management and school nursing," Mitchell commented.
"The graduates also have continued their education to obtain Bachelor of Science in Nursing degrees, and even masters and doctoral degrees in nursing education, nursing management, advanced practice nursing and nurse anesthesia."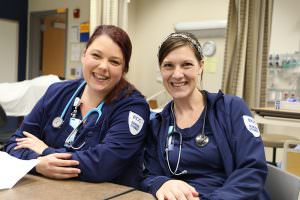 ECC offers two programs leading to an associate of applied science degree in nursing. This program prepares students to become registered nurses.
The main campus in Union, as well as the Rolla site, offers a complete pre-licensure program (generic) for those interested in becoming a registered nurse.
An LPN to RN Bridge program also is available at the Rolla location for LPNs interested in becoming registered nurses.
"Students' licensure success is a testament to the rigorous academic program of study that our faculty have developed to educate future nurses," Mitchell said. "The faculty are content experts and share their experiences and nursing knowledge. We are proud of our program standing, our excellent faculty and students."
To learn more about the ECC Nursing and Allied Health program, visit https://www.eastcentral.edu/allied-health/, or contact Mitchell at Nancy.Mitchell@eastcentral.edu.
Ranking Data
For the 2020 rankings of ADN programs, the research team at Nursing Schools Almanac compiled an extensive database of student performance on NCLEX-RN.
Aspiring registered nurses in the U. S. must pass this examination before they may commence practice. Thus, student performance on the NCLEX-RN exam provides an excellent benchmark for comparing the relative quality of associate's degree programs.
The research team used a database to calculate each program's NCLEX-RN pass rate among first-time test-takers.