ECC Grad Running EMS Calls in New York City
Leaving home to help fight the COVID-19 pandemic in New York City was the toughest decision Tonya Tsiaklides has made.
Tsiaklides, a paramedic and EMT, has been working 12-hour shifts every day for more than three weeks. The 2013 East Central College alum, who lives in Washington, is scheduled to come home at the end of April.
"It was the most difficult decision I have ever had to make; knowing I'm leaving my husband, daughter, family, and friends to go and fight this unknown battle — to put my health and life at risk," she said.
"My EMS brothers and sisters needed help though. They are family by trade," Tsiaklides added. "Over 25 percent of them are out sick themselves, and the remainder are overwhelmed and exhausted. I did what anyone in my shoes would have done. I answered the call."
Tsiaklides earned an Associate of Applied Science in paramedic tech. She is employed as a paramedic on the Cardinal Glennon Children's Hospital transport team in St. Louis.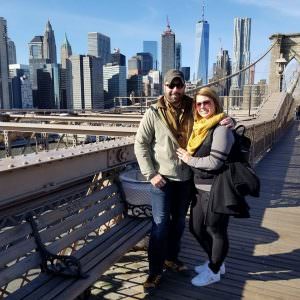 Task Force 7
In 2017, she signed up for a Disaster Response Team that is deployed to U.S. natural disasters and any federal emergency response.
Tsiaklides was sent by the Federal Emergency Management Agency to work with Heartland Ambulance.
She is assisting with an over 50 percent increase in ambulance calls in the New York City EMS system.
Tsiaklides is assigned to Task Force 7, with the mission to run 911 calls alongside the New York City Fire Department Bureau of Emergency Medical Services, also known as the FDNY EMS.
"I feel like this is my way of giving back to this beautiful country," she said. "What better way than to help your fellow man during probably the worst time of their life?"
As of April 27, there were more than 280,000 active COVID-19 cases in New York.
"The first week here was a complete shock when walking into the hospitals," Tsiaklides said. "They were completely overwhelmed. Not one empty bed or chair in sight. Not one empty space in the halls. They were lined up. Having to wait an hour or more just to register patients.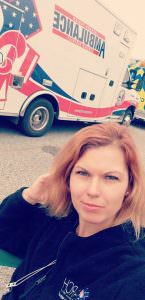 "It's been much better the last week though," she added. "They are getting a handle on things and everyone is doing an outstanding job! Everyone, even the public, are very thankful for our help."
According to Tsiaklides, she can't give details about what she has seen in New York City, but she noted that the COVID-19 response is unlike anything she has experienced.
"Every day it varies. We are seeing a lot more people in cardiac/respiratory arrest than normal," she said. "It is a culture shock to a lot of people with a rural background. We have to wear all of the protective gear (glasses, N95, gown, and gloves) which can be challenging at times."
ECC Grads 
Tom Fitts, EMS Program Coordinator, taught Tsiaklides while she was enrolled at ECC.
"Tonya is an example of many of our graduates who are going above and beyond what they imagined entering this career, or have experienced up until now," he said.
Fitts added that many ECC graduates and current students are working harder in their communities so others can help in areas where there are many more COVID-19 patients.
"We have graduates and students who are working extra hours in our own communities to cover for people who aren't able to work, or have agreed to work in other areas such as New York. "
Tsiaklides is not the only ECC EMT program alumni helping in New York City.
Aaron Turner, Class of 2011, is an Air Evac flight paramedic working in New York City.
Joanna Lynn, Class of 2016, is employed as a paramedic with Meramec Ambulance District in Pacific.
Lynn is volunteering with Samaritan's Purse in a COVID-19 field hospital in New York City, assisting with respiratory and ICU hospital overflow patients.
Samaritan's Purse is a nondenominational evangelical Christian organization providing spiritual and physical aid to hurting people around the world.
There are Samaritan's Purse field hospitals in New York City and Italy.