ECC Receives Three Medallions for Communications and Marketing
East Central College received one Gold Medallion and two Silver Medallions in the 2021 National Council for Marketing & Public Relations (NCMPR) Medallion Awards.
The ECC communication and marketing team won the Gold Medallion for the social media or online marketing campaign category, the two Silver Medallions were awarded for the website and social media categories. The award ceremony was held on Oct. 10.
The NCMPR annually recognizes outstanding achievement in design and communication in each of its seven districts. The Medallion Awards are exclusive to marketing and public relations professionals at two-year colleges.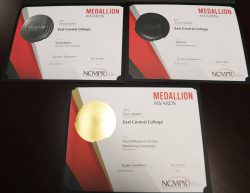 ECC is in NCMPR District 5, which includes Iowa, Kansas, Minnesota, Missouri, Nebraska, North Dakota, South Dakota, the Canadian province of Manitoba, Puerto Rico, and the Virgin Islands.
"We had to make adjustments in how we reached students and the community due to the challenges and unknowns caused by the COVID-19 pandemic," said Gregg Jones, director of communications and marketing.
"Connecting with students virtually became increasingly important, and it is great to see our efforts recognized by our peers."
The Gold Medallion was awarded for the "Featured Falcon" weekly Facebook and Instagram graphic. The Featured Falcon is published weekly to draw attention to ECC students and employees.
The Silver Medallion in the website category was awarded for www.eastcentral.edu.
"There has been a lot of work done to update the website and increase the speed to make it more user-friendly," Jones said. "It has made a huge impact in our website analytics."
Finally, the college received a Silver Medallion for its Facebook page in the overall Social Media category.
ECC's communication and marketing team is comprised of Vice President of External Relations Joel Doepker, External Relations Executive Administrative Assistant Hannah Masek, Coordinator of Web Services Andy Kolb, Multimedia Specialist Amanda Studdard, and Jones.
Former ECC staff member Sara Padgett also contributed greatly to team projects over the past year.
The NCMPR is the leading professional development association exclusively serving those working in communication at two-year community and technical colleges.
NCMPR provides professional development opportunities, advocates on behalf of the profession and the institutions it serves and recognizes professional excellence. NCMPR has more than 1,700 members from nearly 650 colleges across the United States and Canada.