ECC Employees Recognized With NISOD Excellence Awards
Three East Central College employees recently were recognized with 2021 NISOD (National Institute for Staff and Organizational Development) Excellence Awards.
The ECC award recipients are Amy DeMiere, program assistant, arts and sciences; Shanee Haynes, assistant professor of communications; and Stephanie Hebert, business analyst, Enrollment Services
Colleges that are members of NISOD can recognize employees through the Excellence Awards. The awards are presented to faculty and staff who are doing extraordinary work on their campuses.
Excellence Award recipients receive a unique silver medallion engraved with The University of Texas and NISOD insignias and are adorned with a burnt orange ribbon. NISOD is based out of the University of Texas in Austin.
Amy DeMiere
DeMiere is truly committed to ECC and the community it serves. As a former student, she knows the difference we can make in someone's life and she models that every day.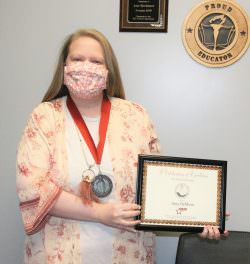 "Amy is the most selfless and supportive person I know — her willingness to not only help when needed but to anticipate problems before they come up and deal with them without seeking credit or wanting anything except to make the educational experience at ECC better is astounding," said an ECC faculty coordinator.
"Amy is always kind to everyone she comes in contact with," echoed a second college faculty coordinator. "Her professionalism is second to none. Her dedication to make the college better inspires all of us."
DeMiere is described as intelligent, honest, ambitious, and possessing a strong work ethic. She is always happy, encouraging, and available to help the faculty, staff and students at ECC.
Shanee Haynes
Haynes is a devoted instructor in the classroom, and that devotion is supported through comments from students.
"Amazing instructor," said one student. A second student stated, "I really enjoy that this instructor applies her coursework to real-life situations and makes sure that the students understand the information."
Additional student comments about Haynes are:
"I loved her enthusiasm. She seemed to genuinely love teaching."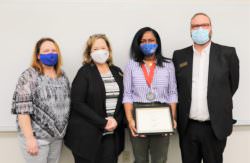 "Mrs. Haynes is a great teacher. She is very understanding and helpful. She always answers in a timely manner, and never makes me feel stupid for asking a question".
In addition to supporting her students in the classroom, Haynes is committed to civic engagement through her leadership in the month of service activities.
She also serves as an inspiration in serving online students and their unique learning needs.
Stephanie Hebert
Hebert is a dedicated colleague who works extremely hard behind the scenes on projects, reports and a multitude of other tasks.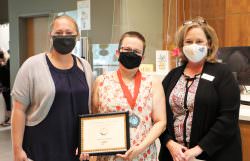 "Stephanie is committed to the college and cares about her coworkers," said one ECC employee. "She is a thoughtful, tenacious and intelligent problem solver.
The college added that Hebert is always available to lend a hand when staff experiences an influx of enrollment-related needs.
"She is an excellent project manager, as demonstrated by her work to bring Aviso online and now with our move toward a Customer Relationship Management (CRM) system for the college.