Real Couples to Star in ECC's 'Almost, Maine' Production
The next East Central College Theatre Department's production, "Almost, Maine" follows the journey of eight couples for one night.
And it is fitting that the cast includes three real-life couples.
"Almost, Maine," written by John Cariani tells the story of the couples during the Aurora Borealis, as relationships are formed, broken and rediscovered.
The filmed production will be directed by Grace Austin with Shania Wilson, Sebastion Montowine and Jacob Fitts. It will be professionally filmed by Route Three productions. "Almost, Maine" will be available for viewing April 30 through May 2.
Scenic and lighting design will be by Bess Moynihan and costume design will be by Harley Vuocolo.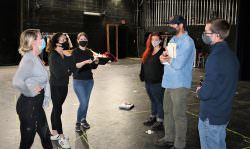 Wilson will serve as head stage manager and Head will serve as assistant director.
Real-life couples performing in "Almost, Maine" are Elin and John Schmidt, Trish Baker and Jonathan Robertson, and CJ Satterfield and Tiffany Holzem.
The couples are joined by the actor pairings of Tara Steffens and Kyle Counts, Briley Howell and Andrew Carter, and Sebastian Montowine and Harley Vuocolo. Also in the performance are Dora Bell, Sydney Smith, Isaac Corum, Sarah Hopp, Jessie Patterson, Lukas Dement and Sarah Serbus.
For more information or to purchase tickets, visit www.ecctheatre.com.