ECC's Marketing Team Receives Gold Award at National Conference
The East Central College Marketing team was recognized nationally with the 2021 Gold Paragon Award from the National Council for Marketing & Public Relations (NCMPR) at the council's conference in Denver in March.
The award, for "Successful Recruitment or Marketing Program," celebrates the marketing team's efforts on the Finish Your Investment (FYI) recruitment program.
ECC's FYI initiative provided a step-by-step guide for former students to finish what they started and earn a college degree.
There were 742 former students targeted during the initiative through postcards, social media and digital ad campaigns, print advertising and through the ECC website.
Director of Communications and Marketing Gregg Jones said the marketing campaign was multi-faceted and involved everyone on the communications team.
"That is what makes this award meaningful and noteworthy," he said. "Through traditional advertising, digital ad creation, writing and our website, our entire team created a marketing campaign that resonated with people in the community."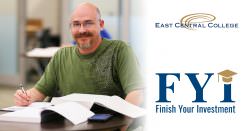 Jones added that a key element to the FYI initiative is that it was successful in its goal to reach former students who returned to finish their investment.
Under the degree reclamation program, 39 students "auto graduated" due to the number of credit hours they already had obtained. Another 31 students applied for admission; 20 enrolled in courses, five of whom earned a degree.
Jones attributed the success of FYI to the hard work of many ECC employees who contributed to the planning and implementation of the initiative.
Marketing Team/NCMPR
ECC's communication and marketing team is comprised of Vice President of External Relations Joel Doepker, former External Relations Executive Administrative Assistant Hannah Masek, Coordinator of Web Services Andy Kolb, Multimedia Specialist Amanda Studdard, and Jones.
The team has grown in the past 6 months to include graphic designer Cole LaPlant, and student worker Abby Stanfield. Former staff member Sara Padgett also contributed to team projects over the past year.
The NCMPR is the leading professional development association exclusively serving those working in communication at two-year community and technical colleges.
Gold, silver, and bronze Paragon Awards are presented to two-year colleges across the nation by the NCMPR.
The 2021 Paragon Awards drew 1,719 entries from 232 colleges across the country and was judged by nearly 70 professionals from the marketing and public relations industry. Entries stretched from coast to coast and from Vancouver, Canada, to Florida.
NCMPR provides professional development opportunities, advocates on behalf of the profession and the institutions it serves, and recognizes professional excellence. NCMPR has more than 1,700 members from nearly 650 colleges across the United States and Canada.