English Acquisition Instructor Knows the Challenge of Learning a New Language
Peggy Boyer has frequently traveled internationally, and while in college she studied and learned foreign languages.
Those experiences help her empathize with her students in their desire to learn English, and she understands the challenges they face.
Boyer is an English Language Acquisition (ELA) instructor through the Adult Education and Literacy (AEL) program at East Central College.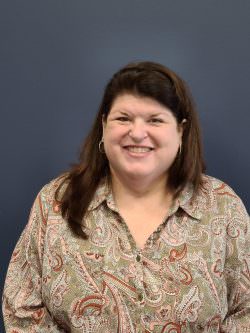 Her three-hour class, two days each week, is packed full of teaching and learning. The students build their skills in reading, writing, listening, and speaking, as well as civics and workplace essentials.
"If you have a willingness to learn, we will help you," Boyer said.
The students who attend her ELA class aren't visitors on a vacation — they are living, working, and raising families here, where they are surrounded by the English language.
"I encourage my students to put themselves out there and talk to people in English whenever they can," Boyer added, "and to read and write English outside of the classroom as well."
She also urges people in the community to slow down when speaking to an English-language learner.
Boyer notes that she has had students from countries all over the world: China, the Philippines, Vietnam, Russia, Ecuador, Brazil, Romania, and others.
"They like to learn about our culture," Boyer commented. "They want to know the right way to do things."  The conversations and lessons they have in class help them gain confidence to use English outside of the classroom.
Her students have asked her things, such as, how to get a pool pass, how to pay a city bill, and even how a funeral in America takes place, and what they should do when they go.
When Boyer recently was planning to attend a wedding in Brazil, one of her students explained how weddings there differ from weddings in America.
"She showed me pictures of a wedding that she attended in Brazil and the evening wear that everyone was dressed in. My students teach me, too. I'm learning all the time," said Boyer.
Through her ELA curriculum, students also learn about American civics.
"Some of my students' long-range hope is to become a United States citizen," she said. "It's important for them to know the background and the history of our country."
In the past, she has been able to go with her students to events. They have attended a baseball game, a poetry reading, Earth Day, and International Day events, among other outings.
Boyer absolutely loves teaching and has done so for more than 35 years. Furthermore, she loves meeting people from other countries and sharing knowledge with them.
"It's just right up my alley to do this. I'm proud of my job, and I'm proud of what we do in the Adult Education and Literacy program," she added. "What we do at ECC is important."
To learn more about ELA or the Adult Education and Literacy program at ECC, visit https://www.eastcentral.edu/ael/, email ael@eastcentral.edu, or call 636-584-6533.