'Late Bloomer' Uncovered his Passion at ECC — Music Education
Nathaniel Sater has always had a passion for music. But it wasn't until he was in his 40s when he realized he could have a career doing what he loves the most.
And like so many in the community, East Central College was where he turned to pursue his dream.
Sater, of Pacific, graduated from ECC with an Associate Degree in Music In 2015. He already earned a business degree from Fontbonne University in 2007, but music is in his bones and that drove him toward a second go at college.
"I am a bit of a late bloomer. I had piano lessons as a child, and bought a guitar when I was 28, but I didn't start what I considered seriously studying music until the fall of 2013," he said.
Sater enrolled at ECC that year after meeting with Dr. Jennifer Judd, music program coordinator, who he credits with recognizing is talent, encouraging him, and pointing him in the right direction.
"Dr. Judd asked me some questions and I think that she saw I had realistic goals of just being a better musician than I was the day before, and that I was willing to spend the time in the practice room in order to get better," he said.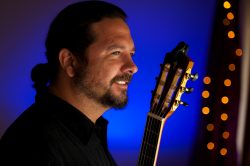 "I was eager to learn and be taught. It was like walking through a gate. I was treated like a serious musician at the very beginning of my training and from day one — it was exciting."
Once he started in the program, Sater learned from Dr. Judd, Dr. Timothy Sexton, choral director; Aaron Bounds, band director; as well as music adjunct Bill Hopkins and former music instructor Sue Chu.
"Nate was an energetic and enthusiastic music student," Judd said. "He was always willing to work on new concepts and was great at working with other students in the Jazz Combo groups."
Bounds added that Sater was eager to learn and share what he already knew about music.
"He was a joy to work with, adding much passion and life experience to many of our discussions," he said.
Sater noted that ECC fits his desire to and grow as a musician perfectly.
"Dr. Judd knew exactly where to place me for (music) theory, instrumental study, history and ensemble study," he said. "She is amazing."
First Time Around
In 2008, a year after graduating from Fontbonne, tragedy struck Sater and his family. His mother died from pancreatic cancer after a year-long battle.
"After that I had no direction. I had a good job, but it wasn't filling my soul," he remembered. "I had a talk with myself, recalled doing well in classes that weren't fulfilling for me, like business management, and I guess my focus shifted back to realizing the power of hard work.
"I decided that I should have studied music starting back in my youth," Sater continued. "I just didn't believe that I could be good as a child. It is a huge part of my personal identity to be a musician and an instructor."
It was those thoughts that guided Sater back to higher education, and to ECC's music department.
Post ECC Career, Education
Sater took a job teaching for an after-school program in the Baltimore/Washington D.C. area after graduating from ECC. He taught music classes and lessons in both English and Spanish.
"I taught the children mostly guitar and piano, but some drums and violins," he said. "This job made me realize that I was good at talking about and teaching music, so it led back to Missouri where I enrolled at Central Methodist University."
Sater became the first recipient of the Rita Gulstad Transfer Scholarship at CMU, which is specifically designed for community college students who want to complete a four-year degree at the university.
He graduated from CMU in 2019 with a degree in Music Education. His next stop was Lindenwood University where he earned Master of Music Education.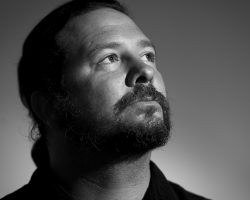 Now, in his mid-40s, Master's degree in hand and still carrying the influence of ECC faculty, Sater said he is looking a career as a music teacher.
"I am looking for a job like what Aaron Bounds does at ECC," he said. "He gets to teach a course on the history of jazz that I have heard is very interesting. I envision myself teaching Theory I and II, History of Jazz, giving lessons on the guitar and possibly other instruments, conducting the jazz band, and other ensembles such as a guitar quartet."
Sater noted that his experience in ECC's Music Department has been such a positive influence that he also wants to work at a community college.
Performing
Sater has been performing music on stage since 1999. He has played a variety of music in nine states.
"I perform with blues bands, solo gigs, jazz bands, big bands, rock bands, reggae bands, Grateful Dead tribute bands, party and dance bands, and Lynyrd Skynyrd tribute bands," he said. "I mostly play piano/organ but do also do guitar and harmonica."
About ECC Music
ECC is an accredited member of the National Association of Schools of Music.
The college offers Associate of Fine Arts (AFA) in Music and Associate of Arts (AA) in Music. To learn more about the program, visit www.eastcentral.edu/humanities-arts/music/.
For more information, people may contact Dr. Judd at jennifer.judd@eastcentral.edu or 636-584-6696, Dr. Sexton at timothy.sexton@eastcentral.edu or 636-584-6698; or Bounds at aaron.bounds@eastcentral.edu or 636-584-6697.