'Monsterbet' Exhibit Coming to ECC Art Gallery
The East Central College Art Gallery will present "Monsterbet: An Aberrant Abecedarius," a solo exhibition of oil and mixed media paintings by California-based artist Heidi Brueckner.
The exhibition will run from Jan. 25 to Feb. 15, in the gallery located in Hansen Hall.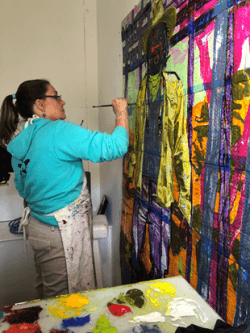 "Monsterbet" is a series of cultural allegories based on the traditional format of children's ABC books, but with a layer of social commentary. Each letter of the alphabet stands for an invented monster that has a particular quirk.
The works are playful and fanciful, while simultaneously symbolic and conceptual, touching on some of the artist's favored themes of human vice, morality and fear.
The series includes many types of mixed media such as sewing pins, safety glass, vintage Italian doll's eyes, eyelashes, screen, seeds and pods, flocking, dollar bills, AstroTurf, computer keyboard keys, leaves and blossoms, band-aids, dice, garlic skins, lace, glitter, springs and paper. A companion book of the series is available.
Brueckner has been a professor of art at West Valley College in Saratoga, Calif., for over 20 years. She graduated from University of California, Santa Cruz, with degrees in both art and art history. She earned a master's in fine arts in painting from the University of Kansas.
Brueckner has shown her work nationally and internationally in over 100 solo and group shows. During 2020-21 she won 11 first-place awards among others, including Italy's International Prisma Art Prize and the Faber Birren Color Award. She lives and works in Oakland, Calif.
To learn more or see Brueckner's work, visit www.heidibrueckner.com.
For additional information about the exhibit or the ECC Art Gallery, contact Assistant Professor of Art and Gallery Curator Jennifer Higerd at jennifer.higerd@eastcentral.edu or 636-584-6653.