Mother and Son Welding Duo Graduate Together
A family that welds together, graduates together.
That's the case for East Central College Class of 2020 graduates Bridget Teaters and Wyatt Watkins.
Teaters, 40, is Watkins' mother. The Bourbon area mother and son were both enrolled in the ECC Fast Track welding program under instruction by Bobby Bland, program coordinator. They completed the program this month and earned their certificates.
The 16-week Fast Track welding program is a great way for students to advance their careers or spark life into a hobby or trade.
Watkins, 19, graduated early from Bourbon High School in December 2019. After graduating he moved to Florida to work with his father.
According to Teaters, she was looking to better her education. She was eligible for funds through Missouri's SkillUP Program that could be applied toward a welding certificate.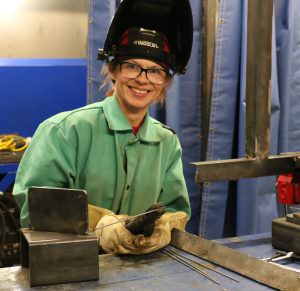 Through the SkillUP Program, Teaters was able to take the course at no cost.
"I couldn't really say 'No' to that," she added. "I told Wyatt that I wished he was here to learn the trade with me."
Watkins came back to Bourbon to live with his mother after learning about the program.
"I was trying to learn concrete," he said. "When I heard about this program, I thought it would be too good of an opportunity to pass up."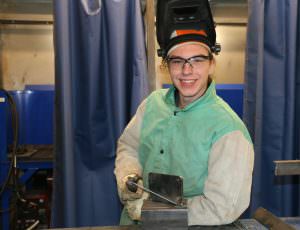 Teaters also is raising a 4-year-old boy, Brayden, and the welding program has provided flexibility for her to care for her child and attend classes.
Molding Students
Bland said the ECC program molds students like Teaters and Watkins, who knew very little about welding, into a valuable asset in the ever-growing welding industry
"Bridget and Wyatt are learning a highly-skilled trade that will provide them a career that will advance both of their lifestyles," Bland said. "These two have a lot of fun in class learning different welding applications."
The applications include oxy-fuel welding, stick welding, and MIG welding, he noted.
"They have come so far, it is unbelievable — not only welding but seeing their engagement in class that I look forward to seeing every day when they arrive," Bland said.
He added that there are many options for welding students once they complete the course.
"Our Fast Track Welding Program gives students an opportunity to learn a cool skill that you can have a lot of fun with, while making a great salary," Bland added.
What's Next?
Teaters will consider a career in welding, but she also intends to use her skills creatively in her artwork. Her work, which is primarily painting, is featured on her Facebook page: Bridget's Painted Pallets.
"I don't know where it will take me yet but I definitely will use the skills for my art," she said. "This is a great way to further my art and allow me to do more than just painting."
Watkins is ready to pursue a career, which could take him in many directions including sheet metal, boiler making, plumbing, pipefitting, and more.
"I plan on getting a job in the welding industry," he said, "but I am still deciding on what direction to go in the field."
During the welding courses, the mother and son classmates enjoyed their time together in class.
"In class is probably the most I get to see her," Watkins joked.
"It is encouraging that we've done something right and watching him succeed," Teaters added. "It was honestly one of the best opportunities I was able to achieve with my oldest baby!"
Welding Program
Bland noted that the ECC welding curriculum is built to not only meet industry needs but exceed it in ways that separate it from welding programs at other colleges.
"Students learn in a fun and energetic lecture and lab environment working in teams, individually, along with groups," he said.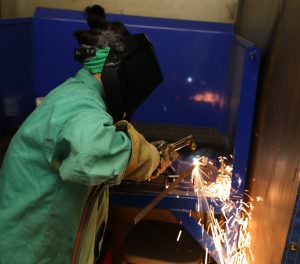 In addition, Bland said, the ECC welding program offers training in lean manufacturing and teaches students how to communicate with engineers and designers. The program offers flexibility so students can learn the different welding processes such as MIG, TIG, and stick welding.
Students in the ECC Fast Track Welding program are eligible for federal financial aid. The program is taught in the welding lab of the ECC Business and Industry Center.
For more information about the ECC welding program, visit https://www.eastcentral.edu/career-technical-education/welding/. To learn more about the SkillUP program, go to https://www.eastcentral.edu/cwd/skillup/.