Nursing Program Recognizes 36 Graduates During Pinning Ceremony
There were 36 East Central College Nursing Program graduates recognized during a pinning ceremony on May 13.
The ECC Nursing Program held its formal ceremony for its Union and Rolla nursing students prior to graduation in the Donald Shook Student Center. Family and friends of graduates, faculty, staff and administration attended the pinning ceremony.
The pinning ceremony is a time-honored nursing program tradition that signifies the nursing graduate's initiation into the sisterhood and brotherhood of nurses. Students receive pins that are unique to the ECC Nursing Program.
The pinning ceremony opening remarks were given by Dean of Health Science and Director of Nursing Nancy Mitchell, followed by a greeting by ECC President Dr. Jon Bauer. A student welcome was given by Class of 2023 graduate Kelsea Smith, a Missouri Baptist Sullivan Spirit of Clinical Excellence in Nursing Award recipient.
The guest speaker for the ceremony was ECC Rolla Nursing instructor Jon Elias.
The program closed with student remarks from 2023 graduate Nathaniel Wissman, Mercy Spirit of Clinical Excellence in Nursing Award recipient. Wissman also performed a special piano solo during the ceremony, "Fantaisie-Impromptu (Op.66)" by Frédéric Chopin.
The program concluded with closing comments given by ECC Vice President of Academic Affairs Dr. Robyn Walter.
The Nursing program graduates are:
Ginger A. Adams, Cody W. Jones, Avery D. Akers, Hannah E. Kitson, Hannah R. Barrett, Callan G. Mohesky, Kelsey R. Blackwell, Hannah E. Olive. Jozlyn L. Bolte, Kyleigh E. Payne, Isabel L. Bramel, Justin M. Penn-Lavely, Scottia M. Burrows, Samantha Peterson, Jessie O. Downey, Amanda Redmon, Cheyenne F. Durbin, Alyssa M. Rinehart, Hannah L. Eckelkamp, MacKenzie C. Rolf, Lauren E. Ely, Jessica M. Schatz, Shayla A. Goddard, Branden T. Shearin, Kirsten A. Golden, Keri M. Simmons, Kailey M. Gupton, Kelsea M. Smith, Cahliah S. Hammonds, Nathan W. Temme, Andrea Hayes, Kaylee N. Vasquez, Matty L. Inman, Haley M. Welch, Emily N. Johnson and Nathaniel Wissman.
Union Nursing Graduates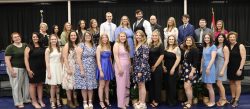 Rolla Nursing Graduates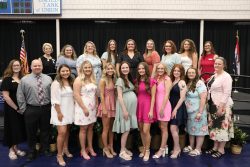 To learn more about the ECC Nursing program, visit www.eastcentral.edu/allied-health/nursing, or email Nancy Mitchell, Director of Nursing and Dean of Health Science, at Nancy.Mitchell@eastcentral.edu.