Nursing Student Aspires to Work in Operating Room
East Central College nursing student Anna Swoboda's passion for helping others is guided by the personal experiences of her and her family.
Swoboda, of Villa Ridge, aspires to be a nurse "first assist" to aid surgeons during operations — a goal she set when her mother was being treated for vulvar cancer.
She explained that her mom, Donna, battled cancer for a total of 12 years. At one point she had defeated it, but the cancer came back more aggressively than ever more than 10 years ago. When the cancer returned treatment required one major "last resort" surgery, Swoboda said. The surgery last 16 ½ hours.
"This was the moment in my life when I knew I needed to be on the opposite side of the waiting room doors," Swoboda said.
"I wanted to be in the operating room. I wanted to repay everyone in that OR (operating room) that day who attributed to saving my mom's life."
The surgery was a success but Donna still faces repercussions of the procedure today. However, she has been cancer free for nine years.
Swoboda is in her second semester of the complete pre-licensure program, a program offered to students who are interested in becoming a registered nurse, or pursuing their education more
"I am the type of person who sets goals," Swoboda said. "I plan to get my RN (registered nurse) and then be a CNOR  (Certified Perioperative Nurse)."
She is determined to earn an Associate of Applied Science degree in 2021, exactly 10 years after her mother went into remission. Ultimately, Swoboda wants to be a RN first assist where she will work in the OR.
Helping Others
Swoboda has been to Honduras twice, once in 2016 and then in 2017, through the Washington Overseas Missions. Medically trained volunteers assisted Hondurans with medical and dental needs during the trip.
The team, called the "American Brigade" by Hondurans, extracted teeth, cleaned blood clots and open soars, checked vision of patients and taught children how to properly brush their teeth. It was not easy work, Swoboda said. Each day for two weeks the volunteers would travel to a different village, unload and set up clinics, and pack up at the end of the day.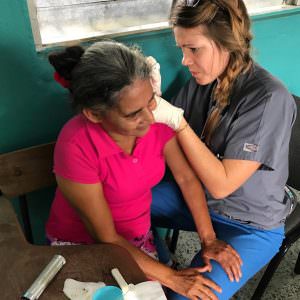 According to Swoboda, her experience assisting with surgeries and helping patients has reinforced her goals at ECC and beyond. In one case a man sought treatment from the American Brigade for severe head pain. Swoboda explained that after an assessment, he admitted to volunteers that six months prior a tree had fallen on him, striking him in the head.
"He had no doctor to go to until he heard about our brigade," she said.
There was one family that walked four hours to see the medical team, Swoboda added. Another family complained of severe pains in their abdominal area.
"They asked our physicians if there was any medication that we had for them to make it stop," Swoboda said.
The doctor did his assessment and told the family that they were having hunger pains.
"They were starving and severely malnourished. The medication we gave them was food," Swoboda said.
In November 2019, she wrote about her experiences in Honduras that was published in The Surgical Technologist — a trade magazine.
Africa Trip
In 2018 another medical emergency shaped Swoboda's future, but this time it was her own surgery.  She explained that she needed an immediate operation to remove her gall bladder and appendix. Her surgeon was Dr. Jonathan N. Limpert, who has been a leader of medical mission trips to West Africa. The surgery was a success and the patient and doctor quickly became friends.
"I told him that I really wanted to go on a surgical mission," Swoboda remembers.
The team is through "Crossing4Mercy," a humanitarian outreach effort that helps the people of Yendi. Later that year, she joined the medical team that visited Ghana, Africa for several days in late 2018 through early 2019.
"I was sick and that led to an opportunity to help other sick people," she said. "God places people in our life at the right time."
During the trip to Africa, Swoboda took vital signs of patients and conducted prescreenings. Each morning, Swoboda would help set up at the hospital. She would check on patients daily, clean and sterilize instruments and set up for surgeries, among other responsibilities.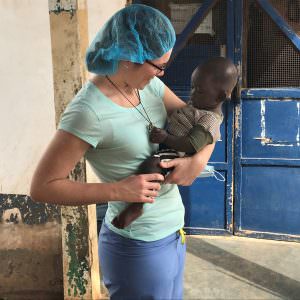 Some of the cases seen by the medical team were serious — tumors, prolapsed uteri, enlarged thyroids, hernias and other conditions. During the mission, Swoboda wrote in her journal, "I feel like I finally have a purpose in life. . . "
She said the mission trips have reinforced her life goals and pushed her to continue her education.
"These trips really opened my eyes," she said. "There is so much more suffering in the world than most people see."
Education
Swoboda already earned a surgical technician certificate, which she obtained from St. Louis Community College in July 2017. But she wanted to continue her education and set her sights on the ECC nursing program.
"I know the more education I have the more I can help in my lifetime," Swoboda said. "I want to have as much knowledge as I can to take care people in the states, and outside the states."
She added that there are many reasons why ECC is a perfect fit to continue her education.
"The instructors here are all fantastic and love being here," Swoboda said. "I like being closer to home and not have to commute.
"This is my community — where I grew up," she added. "It is where I will get knowledge to take care of people for the rest of my life."
Swoboda commented that not only does she receive a high-quality education, but she intends to graduate debt free.
"I encourage people to go to a community college," she added.
Swoboda said her instructors go the extra mile for students to ensure academic success.
During her first semester of nursing school Swoboda did not perform as well as she had wanted on two exams.
"I clearly remember the day I finished the third exam we were given that semester," she said. "I came down to the office to ask a question about a positioning technique used, and when I entered the office, all the instructors came out of their offices and were cheering for me and congratulating me because I got a B on that third nursing exam."
"That was the day I realized they truly care about my success in this program."
Swoboda's experiences in mission trips and interactions with her instructors are two primary factors shaping her.
"The interactions with patients and teachers is transforming me into the nurse I want to be someday."
To learn more about the nursing degree at ECC, visit https://www.eastcentral.edu/allied-health/.