Nursing Students and Faculty Attend MLN Convention
Students and faculty members from the East Central College Nursing program recently attended the Missouri League for Nursing (MLN) 10th Annual Nursing Student Convention.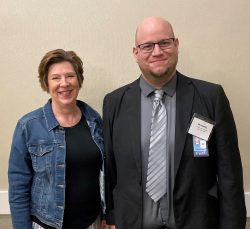 At the convention, Union nursing student Nathaniel Temme, was awarded the MLN Student Scholarship for 2023. This is the third consecutive year that an ECC nursing student received an MLN scholarship.
ECC Nursing program instructor Brittany Clark described Temme as a "driven and determined student."
"He maintains positive relationships with his peers and nursing faculty," Clark said. "When in the clinical environment, Nathaniel always promotes patient safety and is able to effectively and efficiently provide nursing care."
"He will be a great asset to any health care organization and the profession of nursing," she added.
Students also took on leadership positions within the MLN, including Union student Scottia Burrows and Rolla student Kelsea Smith, who were selected as Student Ambassadors for the statewide organization.
Nursing faculty members also attended the MLN conference, including Brittany Clark, Judy Bieker, Joannie Blakely, Jon Elias and Dr. Connie Wissbaum, who presented on the "Strategies for a Flipped Classroom."
MLN is a not-for-profit organization established in 1953 to support the delivery of quality health care by nurses and other health care providers through education, collaboration and information.
It is the leading organization for promoting excellent health care through programs designed to meet members and health care professional's continuing educational needs.
MLN is committed to collaboration and networking with other professional organizations and coalitions across the state.  It is one of the top constituent leagues in the nation.