Prairie Dell Road Project Begins Week of May 18
Construction on the Prairie Dell Road project at the entrance to East Central College is expected to begin Monday, May 18.
Early in the project the northbound lane of Prairie Dell from Audrey Lane to Denmark Road will be closed. Northbound traffic will be detoured south of Denmark Road.  Motorists can detour to College Road.  From there motorists can take Progress Parkway or Highway 47.
Drivers coming to campus from the south can still access the campus via Audrey Lane.
There will still be access from the main East Central College entrance to go northbound on Prairie Dell Road to get to Highway 50 for several more weeks.
Traffic traveling southbound from Highway 50 will not be impacted during the first stage of construction.
A roundabout will be built at Denmark Road and the entrance to ECC. The entrance to the college will be shifted north slightly.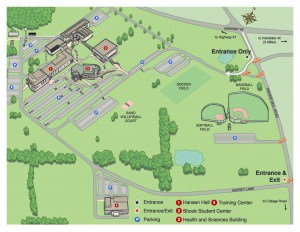 There will be a "slip lane" that allows vehicles southbound on Prairie Dell Road to make an immediate right and enter into the college without accessing the roundabout.
The Prairie Dell Road  project also includes widening of the roadway with construction of new southbound and northbound lanes, pedestrian enhancements as well as curb and gutter work.