Precision Machining Coordinator Recipient of Award
Curtis Elliott, Precision Machining program coordinator at East Central College, recently received the "Governor's Award" from the Center for Workforce Development (CWD) for his work at a local manufacturer.
The award was presented to Elliott for "Outstanding Performance" after he completed a successful project with Klauber Machine and Gear (KMG), Pacific, to streamline efficiency and production.
Dr. Richard Hudanick, Dean of Career and Technical Education, said the efforts of Elliott and Dr. Edward Shelton, director for CWD at ECC, helped reduce waste and saved the manufacturer time and money.
"It is certainly an honor to work with Curtis and all the faculty in our advanced manufacturing center," he said.  "I knew great efforts were coming to fruition at Klauber I just didn't realize how big the impact would be."
According to Elliott, the applied American Society of Mechanical Engineers (ASME) is the standard needed at Klauber.
"This immediately improved efficiency and production.," he said. "Due to the nature of the manufacturing processes Mastercam training was a big part of the plan as well."
"Overall, I am really happy with the project outcome," Elliott added. "The reduction in waste and improved production process reduced the lead-time from 12 weeks to two — the company has had its best production report due to this project in its history."
Elliott's award was presented following a visit to Klauber by Gov. Mike Parson in October.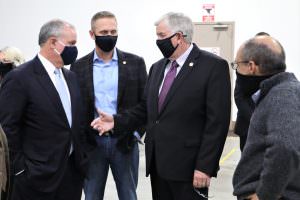 CWD Faculty/Staff
Hudanick added that Elliott and other manufacturing faculty members are successful, in part, because of their experience in the manufacturing field.
"They all started in the industry before giving back to the community through ECC," he said. "They are a great group of very knowledgeable experts in their field and it is exciting to watch them craft their trade."
KMG utilized Missouri One Start program customized training assistance which has helped to develop its workforce.
ECC has taken a unique approach to this training partnership by developing a mentor/instruction method. Under this method, Elliott worked with Klauber employees on the production line twice a week and gave an assessment of the operator's skills.
Learn more about the Precision Machining program at www.eastcentral.edu/business/precision-machining-technology/, or visit https://www.eastcentral.edu/cwd/ to learn about industry training offered by ECC.