Staying Home the Right Decision for Future Teacher
Before the summer ended, Grace McKinnis had her next four years planned.
The St. Francis Borgia Regional High School graduate had been accepted into her top school, Truman State University, in Kirksville, where she would study English and education.
When she combines the two, McKinnis wants to teach grammar, literature, 'or anything English" to high school students.
But, as it did for many, the COVID-19 pandemic shifted McKinnis' plans. About two weeks before she was to move on campus at Truman State, she questioned the decision of leaving home.
McKinnis remembers the exact moment, while at home with her mom, when she realized that it was not the time to go off to college.
"My mom looked at me and I looked at her and I said, 'It's not going to happen,' " McKinnis said.
"It was a last-minute decision," she added. "Everything was ready to go."
Earning a Degree
At the time, McKinnis' sister already was a student at ECC, and she had been encouraged by high school advisors to consider attending ECC because of the incentives, such as A+ funding and scholarships.
Initially, she thought she had too many credit hours due to dual credit classes taken in high school.
But when McKinnis called ECC to talk with Paul Lampe, vice president of student services, he told her that there still were general education classes she needed.
"Initially I thought I would have too many college credits," she said. "But instead I was told that I had enough credits to get a degree in a year."
McKinnis is taking 15 credit hours this semester and she is enrolled in 15 credit hours next semester. Since the courses are part of CORE 42— which transfer to any public four-year school in the state — she will have an associate degree in Liberal Arts when the spring 2021 semester ends.
McKinnis added that ECC is much like any other college campus and she has been taught by great instructors.
"ECC is such a great school," she said. "The professors really care, and they know what they are talking about.
"They want you to succeed while giving you the independence of a college student."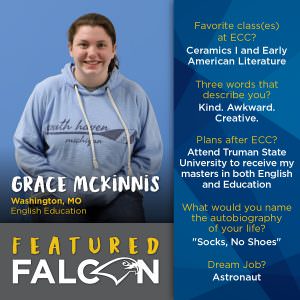 Staying Home
About midway into the semester, McKinnis was diagnosed with COVID-19. She was at home, going to school remotely for 12 days.
"I definitely knew I made the right decision when I got COVID — It was nice to be close to home," she said. "All of my instructors were great as long as I communicated with them."
English Teacher
McKinnis has known for a while that she wants to teach English to high schoolers.
"When I was growing up I had very limited screen time," she said. "A lot of my time was occupied by reading — I love to read, and I also have found that I am a very good at writing."
She noted that one of her favorite classes at ECC is Early American Literature.
According to McKinnis, the decision to come to ECC has taken her a step closer to her dream career. She learned from top tier instructors and she saved money by living at home.
"Coming to ECC was a really good decision," McKinnis added.  "I really like this school, and I am saving a lot of money."