Rolla ELA Student and Husband Sworn in as U.S. Citizens
Ramaz and Tsiala "Manana" Alaverdashvili were sworn in as U.S. Citizens Friday, Aug. 12, during a ceremony at the Old St. Louis Courthouse.
Since 2016, Manana has been attending English Language Acquisition (ELA) classes in Rolla through East Central College's Adult Education and Literacy program — her primary goal was to become a U.S. citizen.
"American people love family," she said. "I love the friendly relations in the USA."
Manana grew up in Gori, Georgia and then moved to Tbilisi with her husband, Ramaz. Georgian is her native language, and she also speaks Russian fluently and can read and write German.
Ramaz, her husband, works at Missouri State University. He is a physicist who works in Science and Technology.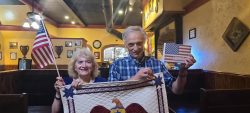 Life In Georgia
While living in Tbilisi, the capital of Georgia, Ramaz worked as a physicist and Manana was the principal librarian for 56 branches of libraries. She held this position from 2004 to 2015.
Prior to this, she worked as a kindergarten teacher and held various positions at Tbilisi State University.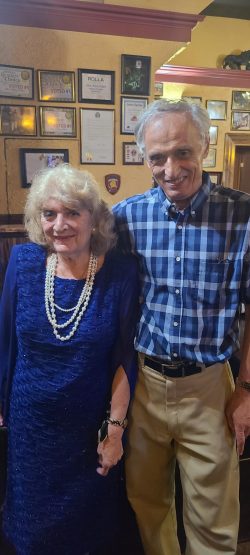 Since moving to Rolla in 2016, Manana has also worked to serve those in need. From 2016-2017, she worked with the Salvation Army. Since March 2018, Manana has volunteered at the Rolla Mission.
At the Rolla Mission she helps serve breakfast and lunch.  She washes the dishes for 30-35 people and cleans the facility.  At times, she helps sort the items that are donated to the Mission.
Manana genuinely cares about the welfare of others.
"There are homeless people at the Mission. Some of them have physical or mental disabilities, therefore they need help," she said. "I like very much when I am helping people in need."
Manana and Ramaz have two children, a daughter, Elene, who is a Chemist living in Georgia and a son, Bachana, who is a Physics professor living in Santa Clara, Calif.
They also have two grandchildren living in Georgia, Andrea who is 7 and Anastasia who is 4. Although the couple do not get back to visit them, they often see one another remotely online.
Manana's story was featured in the Phelps County Focus, which was noticed by State Rep. Don Mayhew. Mayhew sent Manana a note in recognition of her hard work and determination.