Rolla Nursing Student Receives Scholarship
East Central College nursing student Tela Connors is the recipient of a $1,000 scholarship from the Missouri League for Nursing (MLN).
Connors, of Salem, is studying to be a Registered Nurse and is slated to graduate in May.
She will be recognized at the ninth annual Student Nursing Convention April 6-7 in Osage Beach. The scholarship can be used for tuition, books and supplies.
ECC nursing program instructor Joannie Blakely was Connors' clinical and course instructor last year. She said Connors received an "exemplary performance award" for her clinical performance.
"She is a true advocate for her patient's and provides quality safe patient care," Blakely said. "She will be a great asset to the healthcare system."
According to Julie Chirban, also an instructor in the college's nursing program, Connors' personality and work ethic is very well suited for a nursing career.
"Tela is a confident student with years of health care experience that has enhanced her ability to perform at a high level," Chirban said.
"She is kind to patients as well as to her co-students. She has gone out of her way to help fellow students during this program, and she is a pleasure to have in class and clinicals," she added.
"Tela will be a wonderful addition to the nursing profession."
MLN is a not-for-profit organization established in 1953 to support the delivery of quality health care by nurses and other health care providers through education, collaboration and information.
It is the leading organization for promoting excellent health care through programs designed to meet members and health care professional's continuing educational needs.
MLN is committed to collaboration and networking with other professional organizations and coalitions across the state.  It is one of the top constituent leagues in the nation.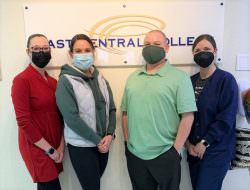 East Central College nursing student Tela Connors has been selected to receive a $1,000 scholarship from the Missouri League for Nursing. Pictured, from left, are ECC nursing program instructor Julie Chirban, Connors; and instructors Jon Elias and Joannie Blakely.