Rolla ELA Student Working Hard to Become Citizen
Tsiala "Manana" Alaverdashvili began attending English Language Acquisition (ELA) classes in Rolla in 2016.
Her instructor, Jean Craft, said that she studies very hard.
"She studies all the time, especially for the citizenship test. I think she knows all of the answers," asserts Craft.
In English class, Manana works on reading, writing, listening and speaking skills.
"(English) speaking and yes, listening, they are very hard things," she admitted, with a little laugh.
Manana grew up in Gori, Georgia and then moved to Tbilisi with her husband, Ramaz.  Georgian is her native language and she also speaks Russian fluently and can read and write German.
While living in Tbilisi, where her husband worked as a physicist, Manana was the principal librarian for 56 branches of libraries.  She held this position from 2004 to 2015.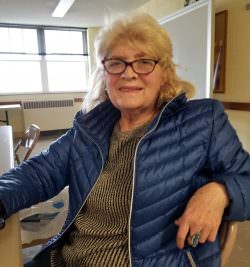 Prior to this, she worked as a kindergarten teacher and held various positions at Tbilisi State University.
Since moving to Rolla in 2016, Manana has also worked to serve those in need.  From 2016-2017, she worked with the Salvation Army.
Since March, 2018, Manana has volunteered at the Rolla Mission.
"There are good people at the Mission – friendly people," expressed Manana.
At the Rolla Mission she helps serve breakfast and lunch.  She washes the dishes for 30-35 people and cleans the facility.  At times, she helps sort the items that are donated to the Mission.
Manana genuinely cares about the welfare of others.
"As it is known, there are homeless people at the Mission. Some of them have physical or mental disabilities, therefore they need help. I like very much when I am helping people in need."
"She is a very kind person and makes friends wherever she goes," Craft said. "It is very easy to like her."
Manana has two children, a daughter, Elene, who is a Chemist living in Georgia and a son, Bachana, who is a Physics professor living in Santa Clara, Calif.
She has two grandchildren living in Georgia, Andrea who is 7 and Anastasia who is 4. Although she doesn't get back to visit them, they often see one another remotely online.
Family ties are very important to Manana.  One of the things she likes so much about the U.S. is linked to this.
"American people love family. I love the friendly relations in the USA."
Ramaz, her husband, works at Missouri State University. He is a physicist who works in Science and Technology.
"He is retired but still works," Manana added.
She noted that her plan is to become an American citizen.
"This is my dream and goal."
There are those in the world who inspire and support others' opportunities to grow and transform. Manana is a great example of that kind of consideration.
Learn more about or sign up for the AEL program.