Sally Dill to Exhibit at ECC Art Gallery
New York City artist and former Franklin County resident Sally Dill will be featured this summer at the East Central College Art Gallery.
Dill's show will be from July 1 through Aug. 27. It is called "Pieces" and the exhibit is dubbed, "Playful Collage Works."
Dill was born in St. Louis and moved to the Krakow area in 1949 when she was 5 years old. Her family remained in Krakow and Dill graduated from St. Francis Borgia Regional High School before she left the area to attend the University of Saint Mary, Kansas.
She noted that her brother, Tom Dill, is a former teacher and baseball coach at ECC. He also served on the College's board of trustees. He encouraged her to seek a show at ECC.
Dill worked as an art teacher, on and off, from 1967 to 2001. She first taught art in Blue Springs, Mo., and later Kansas Cit. She moved to New York City in 1995 and took a position as an art teacher at the Claremont Riding Academy.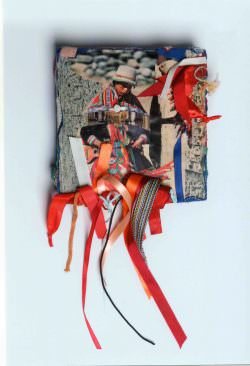 First Body of Work
Dill began creating paper cuts of human figures in 1988, introducing her into the art world. She utilized the "blind contour line method" to cut directly into paper.
"A focusing of the eyes almost exclusively on the subject as I cut, whereby capturing a gesture — the essence," she explained. "Later, the cut shapes, positive and negative, move me in unplanned ways to a composition"
Krakow Revisited
Part of Dill's show at ECC will be her "Krakow Revisited" collection, which are pieces she created while in Krakow, Mo.
"It will be nice to show at ECC because my roots are in Krakow," Dill said.
"Krakow Revisited" was inspired by the St. Gertrude Church's sesquicentennial celebration in 1995, and her family's history in the area. Her great grandfather, Gerhard Voss, settled in Krakow from Germany in the late 1830s.
Dill worked with the sesquicentennial committee to exhibit her Krakow cut photo collages, which included wax and natural elements, such as tree bark from Krakow.
"I used dogwood, pinewood needles and dirt from the church ground," she added.
Her work was displayed in the St. Gertrude Catholic School lobby in the spring of 1995 and she worked with schoolchildren as a visiting artist during the display.
New York City
While walking around the streets of New York City, Dill noticed gloves of varying styles and sizes in gutters, and on sidewalks and streets.
"I am so interested in lost gloves," she said. "They are such a metaphor for all of humanity. I found so many kinds of gloves — Children's, gloves, men's and women's, gloves, work gloves. . ."
Dill would collect gloves she found abandoned or misplaced on roads and sidewalks, wash them, and incorporate them into her artwork.
Other Works
Dill also creates mixed media collages of found objects displayed in antique frames that she has collected, and other small-format works of cut photo pieces and other paper.
She has exhibited in 40 states and Montreal, Canada, since 1988 and is a signature member of the National Collage society since 2000.