Recent Grad Earns Webster Leadership Scholarship
Recent East Central College graduate Alexis Kinnison is part of a select group of students who have earned a leadership scholarship and will participate in the WebsterLEADS Program at Webster University this fall.
Kinnison, of Union, is a member of the Class of 2021. She graduated from ECC with an Associate in Fine Arts degree, and she plans to study to be an art therapist.
"At Webster I will continue my fine arts degree with an emphasis in ceramics, and also begin psychology and therapy courses," she said.
"Being an art therapist is a way for me to help others in my community and connect with them through making art."
During her time at Webster, Kinnison will be part of the WebsterLEADS (Learn Evolve Apply Develop and Serve) leadership certificate program, which continues for students each year they attend Webster University. The program includes interactive courses, workshops, retreats and practicum work.
To be considered for the competitive program, applicants must have proven leadership involvement.
The leadership scholarship requires a minimum 3.0 cumulative grade point average. Applicants also must document extracurricular activities and leadership involvement.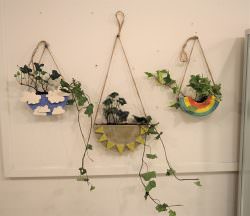 Leadership at ECC
According to Kinnison, she strengthened her leadership skills while a student at ECC.
"During my time at ECC, I was vice president and then president of art club. I was also a student worker in the art department, where I had the best mentors to teach me," she said.
"Through these experiences, I learned a lot about the importance of community and what it means to be a leader," Kinnison added. "Leadership is about bringing people together. Especially through the trying times of COVID, having these groups was very valuable."
She further added that she developed professional habits and practices that will help in continuing her education and in a career.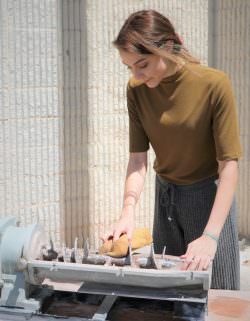 "I've learned responsibility, communication and persistence. Being able to further practice and learn this through the WebsterLEADS program is very exciting," Kinnison said.
Kinnison admits that she wasn't always leader among her peers.
"Growing up, I was probably the shyest kid in school," she said. "My mom had to place a heart sticker in my palm just to get me through the school day.
"You can only imagine how excited she was to get the phone call that I had won the leadership scholarship that I had worked so hard for."
While president of the Art Club this past year, the club created a wall mural in Hansen Hall. The mural includes a quote by French artist Edgar Degas, "Art is not what you see, but what you make others see."
"The mural project hopefully is the start to what my career may look like in the future," she said.