Trustees Extend Contract of ECC President Dr. Bauer
The East Central College Board of Trustees at a June meeting voted unanimously to award a contract extension to President Dr. Jon Bauer through the next three years.
Dr. Bauer has served as president of the college for nine years. His contract was extended through June 30, 2024.
"I'm grateful for the board's support and excited about what lies ahead for East Central," he said.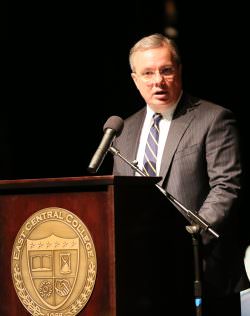 "With a strong leadership team, committed faculty and staff, and engaged board, we are poised for a momentous period in our history. I'm honored to lead the college and I am energized for this work."
Board of Trustees President Ann Hartley commented that Dr. Bauer has provided clear leadership the past 18 months during an unprecedented time.
"Dr. Bauer has a passion for ECC and he always is focused on what is best for the students," Hartley said. "He continued to keep the students and the community ECC serves as the focal point during the difficult pandemic year.
"ECC is very fortunate to have him," she added. "Dr. Bauer has continually moved the college in a positive direction with integrity, dignity and accountability to the position."
Bauer became the college's sixth president July 1, 2012, succeeding Donald Shook, Charles Novak, Dale Gibson, Karen Herzog and Ed Jackson. On two occasions Fred Davis served as interim president of the college.