Sinks, ECC Conduct Second Vaccination Clinic
It was another strong showing for the second and final round of COVID-19 vaccinations at East Central College.
And according to Dr. Sandy Mitchell, owner of Medley Pharmacy, Inc. and Sinks Pharmacy, it was also another smooth vaccination clinic for her team.
There were nearly 1,400 people who received their second shot of the Moderna vaccine on April 27 during a clinic held in the college's Donald Shook Student Center gymnasium. The first round of vaccinations was held March 30 at the same location.
Checking people in and administering the shots for both rounds of vaccines were Sinks employees, with the assistance of ECC Allied Health students and faculty — including paramedic and nursing students and instructors. In addition, there were ECC employees who volunteered for various duties during both clinics.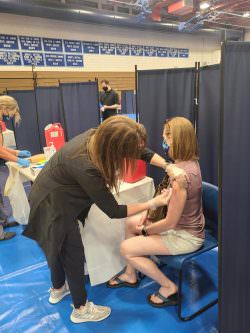 "We are tickled with how it turned out," Mitchell said. "The students and staff who helped are part of why it was so successful — we did not need as many (Sinks) staff members. That was huge."
She added that there were about 1,380 people who received their first vaccination and then 1,340 who received their second shots during the clinics at ECC.
Benefitting the Community
According to Dr. Michelle Smith, the college's COVID point person, ECC's goal was to provide vaccines to employees, and members of the community.
"Vaccines protect everyone in our community, and we are glad to be part of that," she said. "Not only have the clinics improved the health and wellbeing of the community they have provided real-world health care experiences for our nursing and EMT/Paramedic programs.
"The Sinks Pharmacy staff has been professional and courteous," Smith added.
She noted that 85 percent of ECC employees have been, or will soon be, vaccinated for COVID-19.
"Our team has worked tirelessly to make the vaccination process easy and efficient for everyone involved," Mitchell said. "We would like to especially thank Michelle Smith, EdD, the instructors and students in the Nursing and EMT/Paramedic programs as well as other faculty and staff that volunteered their time — It couldn't have gone better."
The pharmacy has been in the forefront providing vaccines to schools in the region.
Once vaccines became available to schoolteachers, Mitchell explained, Sinks Pharmacy staff began holding vaccinations events in the areas where the 14 locations are. As more vaccinations became available, the state would send them to Sinks to administer shots to school districts in the St. Louis area.
Mitchell noted that her staff has held vaccination clinics for area school districts, including Union, Sullivan, Washington and Owensville, and districts further away, such as Clayton and Parkway.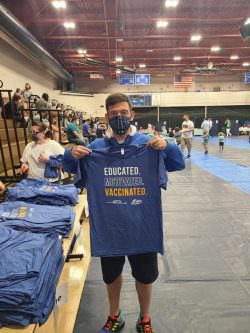 "The team has worked very hard to fine tune the process," she said. "We have ways to mitigate an influx of people, so when several come through the door at once, they don't have to wait long.
"We believe we are here to serve and care for our communities," Mitchell added.
Medley Pharmacy, Inc. has 14 locations in seven Missouri counties. To learn more visit https://sinkspharmacy.com/.