Students Selected to Show in Art St. Louis Exhibition
Two East Central College art students have been invited to show their works alongside regional artists at a multi-media exhibition in St. Louis.
Kate Shelton, Union, and Sara Lynn Carter, Cuba, both in their second year at ECC, have been selected by the college art department to show at the "Varsity Art XXV," a multi-media invitational visual art exhibition.
Art Saint Louis is celebrating its 25th annual "Varsity Art" exhibit at Art Saint Louis, 1223 Pine Street in downtown St. Louis, from March 5 to April 1.
This year's exhibit presents works in a variety of media, including ceramics, drawing, mixed media, painting, photography, printmaking, sculpture and video. The themes represented in this show are representative of contemporary art and trends.
ECC Students
Shelton and Carter are part of 44 undergrad and grad-level art students of all ages representing 22 St. Louis regional colleges and universities from Missouri and Illinois.
Shelton's piece is acrylic on watercolor paper called "Memento Mori."
"Falconry has always been a big part of my life and heavily inspires me to create," Shelton said.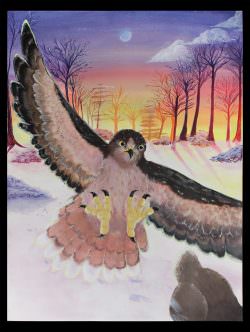 "Growing up working with birds of prey with my father taught me invaluable lessons. The Red-Tailed Hawk is the most common bird of prey in Missouri, and the primary species we hunted with," she commented, "Depicted here is the single most pregnant moment of the hunt, realizing graceful power and sheer terror had in a split-second."
Carter's artwork is titled, "Outsider," and is watercolor and acrylic on a cattle skull.
"Growing up on Western (movies) as a kid, it was only a matter of time before it worked itself into my art," Carter said.
"The majestic setting of the American cowboy inspires me the most, from the dusty cattle drives to bronco busting on a bustling ranch. Recently I have been drawn to painting on cattle skulls," she added. "When I use a skull as a base of my work, I view it as giving it a new life."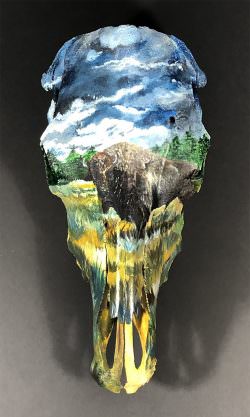 Collaboration
This annual exhibit is a collaboration between Art Saint Louis and the participating collegiate institutions, their art faculty, and students.
Art Saint Louis' Artistic Director works closely with art Professors and faculty at the area's colleges and universities, inviting the professors to select two outstanding art students to represent their art department and institution in our annual show.
Learn more about the annual exhibit at www.artstlouis.org or on its Facebook page.