Students Take Welding Skills Home to Create Art
As a young girl, Pat Schneider would watch her father and brothers use a forge and welding tools in the garage of their home.
"My father was a very artistic man," she said. "He would use it and I would watch.
"Then my brothers would use it and I would watch."
Now, several decades later, Schneider's interest in welding has led her to seek training in the craft, and create her own pieces.
According to Schneider, she would not have been able to learn to weld without East Central College's Community Education program. She explained that the Creative Metal Works course she took Oct. 2-3 set the stage for her to learn skills she could take home to her garden.
"I have always been artistic," she said, "and I have always enjoyed to do artistic type things in the garden."
A few years ago Schneider, who lives outside Pacific with her husband Joe, looked into courses to incorporate welding into her garden.
"I thought I would take a class, but everything I found was very specific to a career and I didn't need to know that much," she said.
Schneider, who retired from a job in finance 35 years ago, told her friend Bridgette Kelch, ECC Foundation executive director, about her interest in a welding course but noted that she did not need a full semester worth of instruction.
Fast forward to late summer 2020 when Kelch emailed Schneider about the Creative Welding course offered at ECC.
"I thought, 'this is it!' " Schneider remembered. "It is going to happen."
Despite her eagerness, the class was delayed because Schneider was the only person to sign up.  However, she recruited two friends, her neighbors Rick and Mary Wimmer-Brown, who jumped at the chance to take the class.
"I could tell they would be a good fit," Schneider said. "They are artistic, garden and they love the outdoors."
She added that both Schneider and Wimmer-Brown households own welders, but they didn't yet know how to use them.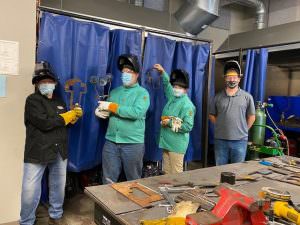 Two-Day Class
Schneider and the Wimmer-Browns were the only three students in the Creative Welding class that was taught by Bobby Bland, welding program coordinator.
According to Schneider, the first day of class addressed safety and how to use the equipment. She noted that Bland also taught the students how to use the equipment they had at home, which was different than welding equipment used at ECC.
"That was important. Not only were we learning the equipment we were using in class, but we were also learning the equipment at home and how it works," she said.
Schneider added that Bland stressed safety and patience.
"It was a great first day learning the basics of welding," she said.
On the second day, Schneider explained that the students learned to use additional equipment and techniques, such as cutting and coloring metal.
"Bobby was very patient — allowing us to make mistakes and then fix them," she said, "which is so important."
Welded Falcon
In the afternoon of the second day, Schneider worked with Bland to make her own art piece — a falcon, based on the ECC mascot.
Schneider used a cut out, put it on metal and etched out the shape of the falcon. She made the cuts and colored it blue by making adjustments to the equipment and the welding techniques.
"I used metal to make a stand and a holder and then welded all of the pieces together," she said. "I had a piece I thought was done extraordinarily well.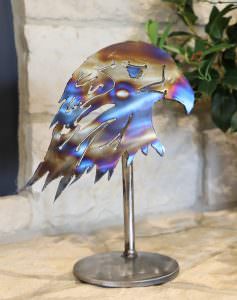 "It took a lot of patience," she added. "Bobby was a great instructor and I highly recommend him for that class."
Schneider said she enjoyed the class so much, that she left her welded falcon for others to see at ECC's Business and Industry Center (BIC), where the class was taught.
"I want people to see it and maybe they will decide to take the class, and hopefully make something for themselves," she said.
The Creative Metal Works course was taught through ECC'S Center for Workforce Development.
To learn more about the welding program and other programs offered, visit www.eastcentral.edu/cwd/community-education/.