Coronavirus (COVID-19) Information
---
If you do not feel well, please stay home. Whether you are sick with Covid-19, the flu, or a common cold. See a list of Covid-19 symptoms here. 
Masks are welcome but they are no longer required indoors, following the recommendation of the Centers For Disease Control (CDC).
The CDC recommends that anyone unvaccinated continue to wear masks while indoors. 
The faculty and students in health care programs are required to follow vaccination requirements of the clinical sites.
Quarantine/Isolation Guidelines
Those who are unvaccinated will need to follow quarantine guidelines in the event of close contact. Vaccinated, including a booster when eligible, individuals will not be required to quarantine following close contact.
Follow the quarantine and isolation guidelines and recommendations below: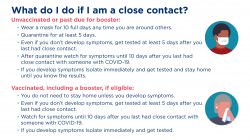 COVID-19 Vaccine Information
According to the Missouri Department of Health and Human Services, both the Pfizer and Moderna vaccines use messenger RNA (mRNA) to encourage your cells to initiate an immune response to SARS-CoV-2, which is the virus that causes COVID-19. Janssen's vaccine uses a vector (carrier) to provide our cells DNA instructions on how to create COVID-19 spike proteins that will initiate an immune response.
The vector used in Janssen's vaccine is a harmless adenovirus (like the common cold) that has been modified so it won't be able to replicate or cause illness.
COVID-19 vaccination will help keep you from getting seriously ill from COVID-19