College and MDC Partner on Venison Processing and Cooking Videos
A partnership between East Central College and The Missouri Department of Conservation (MDC) has produced a series of videos that takes hunters from the harvest to the meal.
The goal of the "Field to Fork" videos is to teach hunters the proper way to field dress and process deer, and to show creative and delicious ways to cook venison.
The first two videos in the series of seven focus on field dressing and skinning a deer, which was demonstrated by Kevin Dixon, associate professor of biology at ECC, and avid hunter.
The third video features Chef Mike Palazzola, culinary arts program coordinator at ECC, butchering the venison and describing each cut of meat.
In the final four videos, Palazzola cooks the different cuts making venison dishes, including fajitas, a double cut venison chop, bacon-wrapped backstrap and Cajun country-fried steak.
The videos were produced by East Central College in partnership with the MDC. They can be viewed now at on the East Central College YouTube channel and the Missouri Department of Conservation YouTube channel.
ECC also will promote a video each week on its social media channels. A link to the list of ingredients and directions are in the description of the YouTube videos.
Processing Venison
According to Kyle Lairmore, education section chief at the MDC, discussions about teaching the public to process their own deer were spawned by the challenge to find processors.
He explained that the past few years, it has been difficult to find a processor with openings or willingness to process hunters' deer harvests.  Many hunters were on a waitlist for processing that was six to nine months long.
"It became apparent that many hunters would need to process their own harvests which led to a partnership between the MDC and ECC, who stepped up and offered their expertise through their culinary arts program," Lairmore said.
He approached Dixon, who he knew was a biology professor and long-time hunter education instructor and asked him to share his knowledge about field dressing deer and preparing it for processing.
"As a biologist and deer hunter I understand the importance of proactively managing the state's deer population through regulated hunting," Dixon said.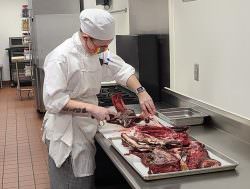 "With my experience of having taken many deer over the years, I hope to help someone new to the sport on how to properly take care of their deer once it's been harvested," he added. "This begins with field dressing the animal and taking care to skin it properly to be able to enjoy the healthy meat options venison provides for the freezer."
Recording the processes provides an educational tool to reach new hunters or teach hunters new skills.
"In some cases, it may be too expensive for someone to take a deer to a processor, and this can help them properly prepare the animal for butchering," he said. "In other cases, folks may want to be do-it-yourselfers and need guidance on how to get started, and I hope that I can help in some way."
In the Kitchen
Meanwhile, when the hunting and processing portion of the project was discussed, Conrad Mallady, conservation educator with the MDC, asked Palazzola if he would participate.
"The thought of a sustainable food source right in our back yards and being able to remove some of the intimidation of trying new things for people has always been one of my motivators," Palazzola said.
"Much of our produce is either harvested from our greenhouse or foraged locally," Palazzola said. "If you make food approachable and necessary, it will bring family's back to the dinner table together."
For the venison recipes, Palazzola said he wanted to create recipes with ingredients people will recognize while teaching them something new.
"I tried to include recipes that were familiar, but just outside people's comfort zone for a challenge and to highlight all the wonderful ingredients we were fortunate enough to have," he said.
"I also wanted to shed a different light on how people regard venison in the kitchen, both professionally and recreationally."
Palazzola encourages anyone who follows the recipes to keep an open mind and make adaptions to their liking.
"I encourage everyone to approach these recipes as a guideline for what the dish could be rather than what it has to be," he said. "Don't rely on these recipes to be 100 percent correct for you. I am cooking with all my senses when I approach a dish in this way.
"It's a bit cliché, but let the ingredients tell you what to do."