ECC Welding Program Partners with Local Manufacturer
Students in Bobby Bland's Welding I class at East Central College are getting real-world experience welding molds for car engines through a partnership with an area manufacturer.
The students, who are pursuing a Certificate of Specialization in Welding, have been welding a mold for Hellebusch Tool and Die, Washington, a company that designs and builds die cast dies and plastic injection molds.
According to Bland, the ECC Welding Program Coordinator, the Welding I classes focus on the heating of metals, or metallurgy, which are skills that are being applied to the Hellebusch project.
The work for the manufacturer is done utilizing ECC equipment at the Business and Industry Center (BIC) on the Union campus.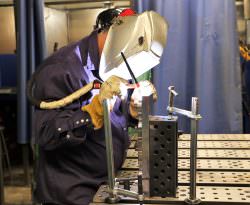 "I am very thankful that a company like Hellebusch is partnering with us to provide our students experience with these types of real-world projects," Bland said.
Students have been welding a mold that Hellebusch employees will use to cast a cylinder. The cylinder will be used in four-cylinder vehicle engines.
Bland noted that once the students have completed their welds, Hellebusch takes the parts, and begin a very precise machining process to ensure that it will function as intended.
"These parts are extremely expensive to make, and students feel the actual pressure of heating and welding high-end parts for an actual costumer," Bland said.
He added that the work the students do this semester will be assessed to determine if future students will do similar projects.
Hellebusch Partnership
According to Phil Dunk, sales engineer with Hellebusch, the partnership with ECC came about as the company was looking for assistance to help tackle the volume of welding work that needed to be done.
Bland, who has connections with many manufacturers in the area, was contacted by the company, setting the partnership with Hellebusch in motion.
Working with a manufacturer like Hellebusch, Band said, is a "win-win" for ECC and for the company.
"I am hopeful other companies follow the lead of Hellebusch and partner with us to bring select projects in-house to educate student in areas like blueprint reading, MIG welding and stick welding," he commented.
According to Dunk, the partnership between ECC and Hellebusch has been beneficial for the company.
"It has been a great experience," he said. "We have wanted to be more involved with the college and recruiting students."
Last month, Dunk visited the college and talked with the students. He explained the work that Hellebusch does, and what the specifically this mold would do.
"It was very nice to talk with the class," he said. "The work that we needed worked nicely with what the students have been learning in class."
To learn more about the ECC Welding program, visit www.eastcentral.edu/career-technical-education/welding.