Student's Path to Success Travels Through Adult Education
Returning to the classroom after several years can be a daunting task.
But when you are as determined as New Haven area woman Vanessa Monroy, the twists and turns along the way become manageable over time.
"It's been a long journey," said Monroy, a recent High School Equivalency (HSE) certificate recipient and an East Central College Adult Education & Literacy (AEL) student.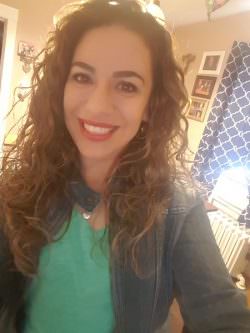 Her journey began years ago when she and her family lived in the Chicago, Ill., area. There, Monroy tried several times to attend class to build her skills.
"The teachers just sat us down with a book and everyone started at the same place. If we had a question, the teacher would say, 'find the answer in the book,' " Monroy remembered.
At the time, she had been laid off from her job of nearly 10 years as a front office assistant for a web development company. Then, her husband got a job transfer to a company in St. Charles.
The couple bought a home near New Haven and their children began school. But Monroy wanted to show she could do more.
"I love being a mom and wife but needed more for myself," she said.
Getting Started
Monroy was unsure if she wanted to start a new high school equivalency program because of her prior experience. However, she called the AEL office at ECC in Union and signed up for the orientation.
"From orientation to the classroom, everyone was engaging and helpful," she said. "When I walked into the Washington classroom and saw my brother's name on a graduation cap on the wall, I thought, 'Okay. Maybe doing the program here was meant to be.' "
She didn't feel as if she was in a race with anyone to finish and could learn at her own pace.
"I wasn't expecting so much help," Monroy added. "The one-on-one with Betsy (Williams) was a huge, big deal."
Williams is the AEL instructor for the Washington daytime class.  Monroy said that she appreciates the instructor for pushing her and reminding her of her goal.
"She took the extra time to make me feel positive and comfortable," she commented. "Betsy is an awesome teacher."
According to Williams, Monroy was ready to learn from Day 1.
"Vanessa came to my class with the desire and dedication," Williams said. "She just needed direction and encouragement.
"Like most of my students, she had things outside of the classroom that required a lot of her attention, but she made school a priority. She definitely earned this," she added.
Receives Certificates
As Monroy worked on HSE skills, she also completed two "Workplace Essentials" courses. She received certificates in customer service and digital literacy, which includes certification in Microsoft Word and Excel.
She remarks that the courses are useful for the workplace as well as in daily life, and Monroy can now enhance her resume with the certifications.
She also advises others who want to take classes and work toward earning their HSE certificate to not overthink it.
"We sometimes set ourselves up with our own obstacles," Monroy said. "There are only positives that come from earning your High School Equivalency certificate."
Mary Eagan, as transitions coordinator for the AEL program, is now working with Monroy in planning her next steps.
"Using a career cluster inventory, we were able to focus her attention on areas that align to her interests," Eagan said. "She in now exploring opportunities that fit her as an individual."
A career cluster is a group of careers that share common features. Those who like one job in a career cluster, are likely to enjoy jobs that are in the same cluster.
Monroy isn't sure what she wants to do next, although she's certain she wants to continue her education — and she knows there are many opportunities that she didn't have without her HSE.
According to Monroy, she and her family have encountered many challenges since December 2019. She added that she has learned to work through those challenges and is making the most of life.
"I'm really grateful for Betsy and everyone with the Adult Education & Literacy program," Monroy said. "The program they have is amazing."
Monroy passed the High School Equivalency exam in December 2020.
"I can't go backward now.  I can only move forward."