The Love of Teaching Takes No Summer Break
The summer months for many students and educators is an opportunity to vacation, decompress or regroup.
But, for some East Central College instructors, it can be an opportunity to continue to do what they love — teach.
That includes Keith Pulles, biology instructor, who teaches the eight-week summer session classes every year.
"I have taught summer courses for seven consecutive years and it's such a great option," he said. "I'm glad we offer these classes for our students."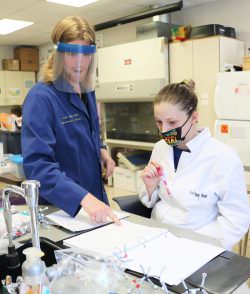 These classes are slightly different than fall or spring courses. Whether online or in-person, summer courses are accelerated versions of their school-year counterparts.
"We do the same lab in about the same order, the same lectures and same types of activities. I don't teach the class any differently other than faster," explained Dr. Beth Winters-Rozema, who also is a biology instructor.
ECC Teachers have noticed their students have no trouble keeping up with the accelerated pace.
"I have just as many if not more successful students in the summer than in other semesters. Even though it's compacted into eight weeks, they still do well," biology professor Tracy Mowery clarified.
Pulles noted that test scores in his summer classes are comparable to scores during the rest of the year.
Dr. Winters-Rozema also stated having students who are successful regardless of the shortened time period.
"There are somethings students do better because of the increased pace. They can tie concepts together easier because what they learned wasn't as long ago," explained Dr. Winters-Rozema.
Students understand that taking a summer class means midterms and finals come up faster and they don't have quite as much time to study in between tests, but it doesn't seem to faze them.
"I don't find it more difficult to focus on classwork in the summer-time. I can still have fun on the weekends and concentrate on school during the week," said ECC student Dustin Lindsay. "You can't procrastinate in the summer, so you have to be better about managing your time. Overall, though, it's not hard."
Many instructors at ECC enjoy teaching so much that they don't mind working during the summers they would otherwise have off. Their love for teaching leads them to continuing in the summer.
"I like having the option to take a summer off, but I never want to. I have only taken off one summer in the last 13 years so I must enjoy it!" said Mowery. "Teaching is always different. While the content might not change much in science, your students are always changing which makes class different every semester which I like."
Pulles enjoys the connections he makes with students and wouldn't want to go three months without.
"It's nice interacting with students and I would miss those interactions if I didn't teach in the summer," he explained.