University of Missouri and Missouri community colleges establish transfer partnership
Representatives from the Missouri Community College Association and MU will work together to ensure pathways to Mizzou are open for students
Contact: Liz McCune, 573-882-6212, mccunee@missouri.edu
On the heels of significant growth in the University of Missouri's transfer student population, MU leaders and the state's community colleges signed an articulation agreement today highlighting their shared commitment to increase opportunities for student access and success.
"Missouri's community colleges play such a vital role across our state and in the lives of so many students and their families," said Chancellor Alexander N. Cartwright, who attended community college prior to transferring and receiving his bachelor's and doctoral degrees from the University of Iowa. "I know firsthand how a two-year college can lead to a premier university like Mizzou and promising career. As the state's flagship, land-grant university, it's our responsibility to ensure that the pathways to Mizzou are clear and that we're doing everything we can to support the success of all of our students."
The agreement, signed by a dozen community colleges in the state, offers students who have met certain requirements guaranteed admission to Mizzou. Requirements include meeting's MU's admissions requirements and having completed an associate of arts (transfer) degree, associate of applied science degrees in nursing or teaching; or completing a 42-hour general education block of courses.
"The agreement formalizes our partnership that has been growing over the past several years," said Brian Millner, president and CEO of the Missouri Community College Association and an MU alumnus. "I am proud of my alma mater for opening its doors to students from diverse educational paths, ensuring they feel welcome and putting in place supports to help them complete their degrees in a timely manner. This partnership is good for students, and it's good for the state."
"This agreement further strengthens ECC's 50 year relationship with the University of Missouri and greatly benefits our transfer degree students," says Dr. Jon Bauer, president of East Central College. "Students have a straighter path to easily transfer from ECC to MU."
ECC transfer students perform well at the University of Missouri. Once they completed a full academic year at Mizzou the grade point average for 2017 fall semester ECC transfer students was 3.59 while the GPA for 2018 fall semester ECC transfer students was 3.62.
Among the over 30,000 students taking classes at the University of Missouri this fall, 1,192 are new students transferred to Mizzou from other institutions –- a 16% increase from last fall. Nearly half of MU's new transfer students — 512 — are from Missouri community colleges.
MU leaders credit several supports for transfer students as key to the increase. Transfer Experience and Advising Mentors, or TEAM, is a 10-week program that combines one-on-one mentoring and weekly group meetings to assist transfer students in their professional, academic and personal development.
Abigail Wilhite, a junior studying political science, transferred to MU from Metropolitan Community College in Kansas City and has been active with TEAM. She said that having a TEAM mentor, a supportive advisor and activities that are open to all students helped her to transition as a transfer student.
"I met my best friends through TEAM and by participating in Mizzou Alternative Breaks," she said. "My transition was smooth, but it was still a big adjustment. There are so many more students here, and I'm very competitive by nature. I had to learn that it's not so much about how I compare to other students — I'm competing against myself, and I have to push to do my best."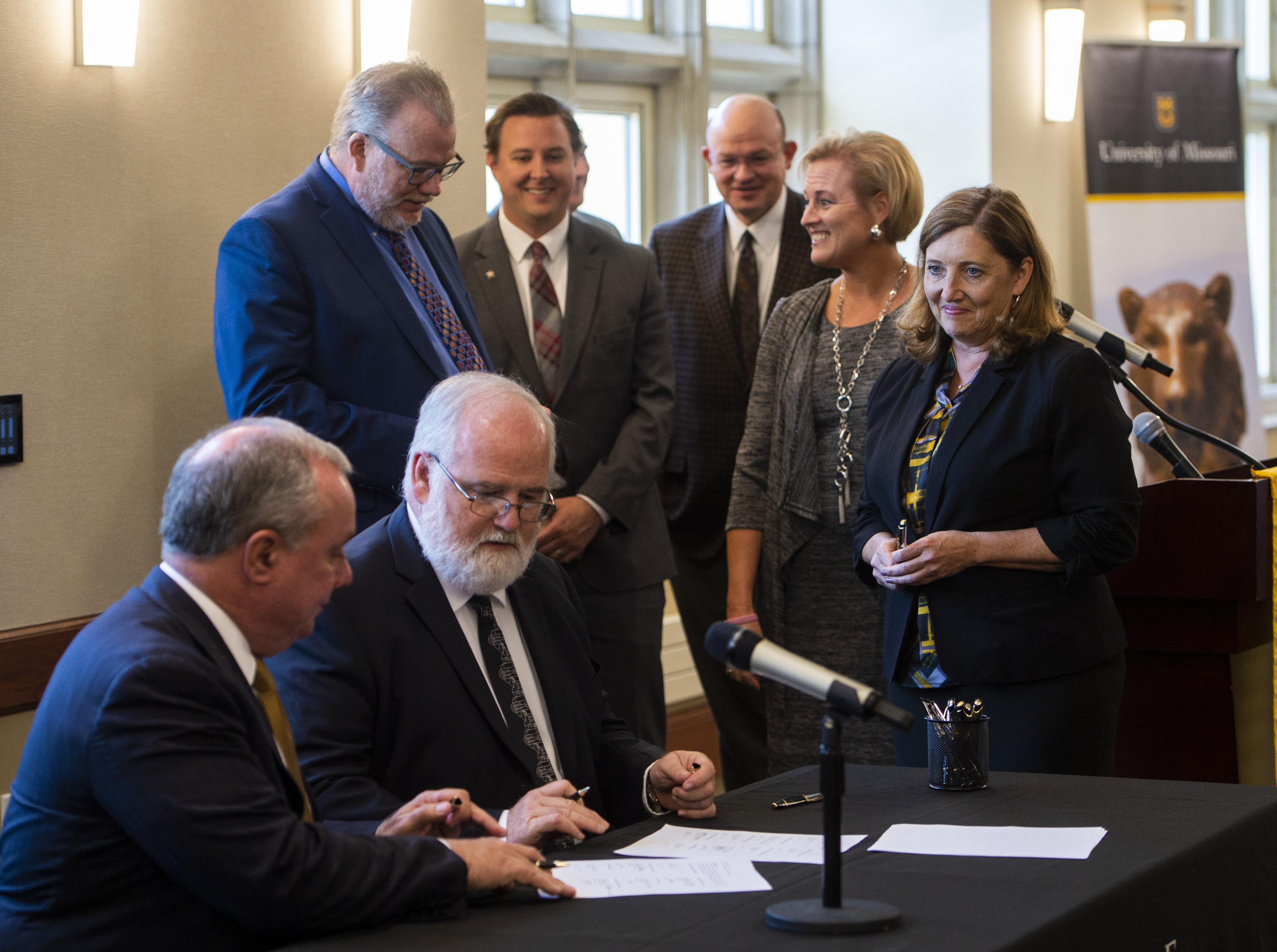 In addition to a transfer center on campus, several colleges and departments at MU also have groups that assist transfer students in meeting others in the program, learning about campus involvement, and exploring undergraduate research opportunities and other resources.
"There are several paths for student success at Mizzou," said Kim Humphrey, vice provost for Enrollment Management at MU. "Through partnerships with community colleges, Mizzou is committed to ensuring that all Missourians have access to high-quality and affordable education."
The two-year community colleges included in the agreement are below:
Crowder College
East Central College
Jefferson College
Metropolitan Community College (all campuses)
Mineral Area College
Moberly Area Community College
North Central Missouri College
Ozarks Technical Community College (all campuses)
St. Charles Community College
St. Louis Community College (all campuses)
State Fair Community College
Three Rivers Community College