Outstanding Alumni of the Year
---
There are many great East Central College alumni making a difference in their communities, and throughout world.
Nominations are being sought for the 2021 Outstanding Alumni Award to recognize those former students. The award is presented by the East Central College Foundation.
To be considered for the award, nominees must have completed a college credit course at ECC at some point in their educational journey.
According to Bridgette Kelch, Foundation executive director, nominees should be viewed by their peers as leaders in their field, with a demonstrated commitment to community. Residency within the college district is not required.
"Our annual Outstanding Alumni award is the perfect way to recognize an alums commitment to their career and community," Kelch said. "We know that many of our alumni are deserving of this prestigious award and are reaching out to the community for help to find those deserving individuals."
Nominees should demonstrate outstanding contributions to ECC or the community, and nominees must have an ongoing commitment to ECC, she added.
Guidelines
Current candidates for public office and past recipients are not eligible for the award.
To nominate a former ECC student, write an explanation in 500 words or less as to why the person is worthy of consideration. The explanation should accompany the nomination. Nominations must be received by Wednesday, April 14, 2021. All nominations received within the last three years are eligible.
The nomination form can be found here, but can also be accessed from the webpage: www.eastcentral.edu/alumni/alumni-of-the-year/. People can also email foundation@eastcentral.edu or call 636-584-6505 to request the form or request more information.
The recipient will be selected by the ECC Foundation Alumni Committee. A formal invitation to the 2021 Commencement Ceremonies will be sent to the honoree and a plaque will be displayed at the ECC Union campus in his or her honor.
_______________________________________________
Park Named Outstanding Alum for 2021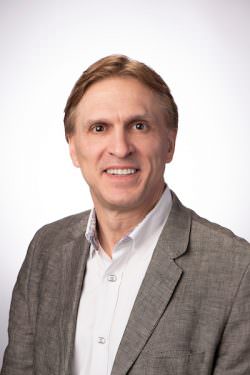 Dr. Eric Park, of Washington, received the East Central College Outstanding Alumni Award at a commencement ceremony in May 2021.
This is the highest award presented to an alum by the ECC Foundation. It recognizes an alum who has brought honor to the college through professional achievement, leadership, and community impact.
"Eric's commitment to not only the college, but his career and community is truly outstanding. He is such a deserving honoree," said Bridgette Kelch, executive director.
To be considered for the award, nominees must have completed a college credit course at ECC at some point in their educational journey.
Park attended East Central College (ECJC at the time) after he received his honorable discharge from the U.S. Army. He earned an associate degree in May 1982. He then continued his education, earning an undergraduate degree in business, two master's degrees, one in finance and one in personal financial planning, and his PhD in Economics from the University of Missouri-Columbia in 2014.
In addition to being a student at ECC, Park once served as an instructor. He also is a founding board member of the ECC endowment program. Currently, Park serves on the East Central College Board of Trustees and Foundation Board.
Park also promotes education through his participation on the board of the Franklin County Chapter of the Mizzou Alumni Association.
A successful investment advisor for more than 35 years, Park is co-founder of LPL Financial, Eric Park & George Meyer, investment firm in Washington. He has received several national industry awards for his dedication to quality investment management. He was named the Registered Rep's Outstanding Broker of the Year in 2005 and was admitted to Research magazine's Advisor Hall of Fame in 2007.
Outside of work, Park is past president of the Franklin County Humane Society and the Washington Rotary Club. He also is past district governor of Rotary International and helped with international poverty relief efforts in developing nations.
Additionally, he has served on the Missouri State Commission charged with regulatory oversight of credit unions and as a member of the St. Francis Borgia parish finance committee.
Park is currently a representative of the Association of Financial Educators and provides educational programs to area companies to help them and their employees better understand how retirement plans can benefit them.
Park is married to Dr. Rui Yao. He has one daughter, Samantha Park Alexander, and one grandson, Mac Alexander.
Past Recipients
(Year, Name, Community, Profession)
2020 Scott Breckenkamp – Washington – Banking
2019 Dorothy Schowe – New Haven – Public Relations
2018 Ron Unnerstall – Washington – Engineer
2017 Audrey Freitag – New Haven – Nurse
2016 Dave Arand – Union – Attorney
2015 Anthony "Tony" Kreutz – Union – Business Admin
2014  Amy Wildhaber – Beaufort – ER Dept Manager
2013  Joseph Purschke – Union – Attorney at Law
2012  Linda Mahon – Union – History/Educator
2011  Ted Coburn – Villa Ridge – Probation & Parole
2010  Ann Schroeder – Union – Political Science
2009  Chris Stuckenschneider – Washington – Journalism
2008  Ken Schmidt – Union – Engineering
2007  Tammy Watz – Sullivan – Allied Health
2007  Dr. Frank Miller – Washington – Allied Health
2006  Deborah Koelling – Washington – Education
2005  Chris Manhart – Union – Education
2004  Tom Robertson – New Haven – Engineering/HVAC
2003  John Griesheimer – Washington – Elected Official
2002  Tonya Voss – Sullivan – Education