Outstanding Alumni of the Year
---
The nomination form can be found here. Once completed, email to foundation@eastcentral.edu. You can also call 636-584-6505 or email to request more information.
There are many great East Central College alumni making a difference in their communities, and throughout the world.
The Outstanding Alumni Award was created to recognize those former students. The award is presented by the East Central College Foundation.
To be considered for the award, nominees must have completed a college credit course at ECC at some point in their educational journey.
According to Bridgette Kelch, Foundation executive director, nominees should be viewed by their peers as leaders in their field, with a demonstrated commitment to their community. Residency within the college district is not required.
"Our annual Outstanding Alumni award is the perfect way to recognize an alum's commitment to their career and community," Kelch said. "We know that many of our alumni are deserving of this prestigious award and are reaching out to the community for help to find those deserving individuals."
Nominees should demonstrate outstanding contributions to ECC or the community, and nominees must have an ongoing commitment to ECC, she added.
Guidelines
Current candidates for public office and past recipients are not eligible for the award.
To nominate a former ECC student, write an explanation in 500 words or less as to why the person is worthy of consideration. The explanation should accompany the nomination. Nominations must be received by Friday, March 31, 2023. All nominations received within the last three years are eligible.
The recipient will be selected by the ECC Foundation Alumni Committee. A formal invitation to the Commencement Ceremonies will be sent to the honoree and a plaque will be displayed at the ECC Union campus in his or her honor.
_______________________________________________
Unnerstall Named Outstanding Alum for 2022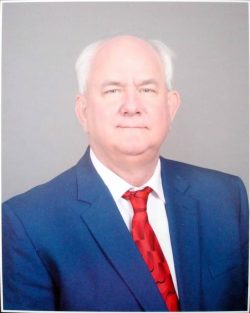 Tim Unnerstall, of Washington, received his Associate of Arts degree in General Studies and his Associate of Applied Science degree in Business Management from East Central College in 1982. He went on to obtain a Bachelor of Arts degree in Business Administration from the University of Missouri-St. Louis in 1990 and gained his certificate as a Certified Public Accountant. Unnerstall is currently the President of Unnerstall and Unnerstall, CPA, PC in Washington.
After graduating, his commitment to ECC never stopped. He has
been a donor to the Friends of the Foundation, a Patron of the Arts, has participated in the Falcon Invitational Golf Tournament, and discounts the ECC Foundation's 990 preparation fee each year.
The Outstanding Alum award is the highest award presented to an alum by the ECC Foundation. It recognizes an alum who has brought honor to the college through professional achievement, leadership, and community impact. Unnerstall was chosen as the 2022 ECC Outstanding Alum for both his dedication and generosity to the college and commitment to help and improve his community.
A life-long resident of Washington, Unnerstall has been involved in several organizations, giving back to his community. Unnerstall has been a member of the Washington Rotary Club for over 30 years, having served on the board for seven years and a term as president. He is currently the Executive Secretary and Controller. He also volunteers as a financial advisor and helps with fundraisers for the Friends Foundation and Advocates for Community Choice, organizations that offer assistance and companionship for individuals who have developmental and intellectual disabilities.
"Tim never does seek praise for his countless hours of volunteering, but instead works to better the Franklin County community," said Tim's brother, Kurt Unnerstall. "I know of no one who speaks so highly of the need to have a community college than Tim."
Additionally, Unnerstall serves as Treasurer on the Board of Directors for Exceptional Equestrians, a therapeutic horsemanship organization for those with disabilities. He also is a Washington Chamber Ambassador and a member of the Washington Elks Club.
For 10 years, Unnerstall served on the Emmaus Homes Board of Directors, including two years as president. He has been a member of St. Francis Borgia Catholic Church his entire life and supports the parish, grade school and high school. He also is a standing member of the American Institute of Certified Public Accountants which is an organization of peer accountants that approves CPA firms.
"Tim has been an incredible member of the community and we love that he is still a part of the ECC community too," said Bridgette Kelch, ECC Foundation executive director. "The Foundation is very excited to grant the 2022 Outstanding Alum award to Tim and honor his impressive achievements. He certainly is deserving of it."
Unnerstall lives in Washington with his wife, Lynne Unnerstall.
Past Recipients
(Year, Name, Community, Profession)
2021 Eric Park – Washington – Financial Planning
2020 Scott Breckenkamp – Washington – Banking
2019 Dorothy Schowe – New Haven – Public Relations
2018 Ron Unnerstall – Washington – Engineer
2017 Audrey Freitag – New Haven – Nurse
2016 Dave Arand – Union – Attorney
2015 Anthony "Tony" Kreutz – Union – Business Admin
2014  Amy Wildhaber – Beaufort – ER Dept Manager
2013  Joseph Purschke – Union – Attorney at Law
2012  Linda Mahon – Union – History/Educator
2011  Ted Coburn – Villa Ridge – Probation & Parole
2010  Ann Schroeder – Union – Political Science
2009  Chris Stuckenschneider – Washington – Journalism
2008  Ken Schmidt – Union – Engineering
2007  Tammy Watz – Sullivan – Allied Health
2007  Dr. Frank Miller – Washington – Allied Health
2006  Deborah Koelling – Washington – Education
2005  Chris Manhart – Union – Education
2004  Tom Robertson – New Haven – Engineering/HVAC
2003  John Griesheimer – Washington – Elected Official
2002  Tonya Voss – Sullivan – Education