Manufacturing Technician Program
---
For those with no experience this program is right for you!  In just a few weeks a student will learn basic skills and abilities to begin working right away as a materials handler, team assembler, or as a basic machine operator at any Manufacturing facility.
This 100 hour course follows the guidelines set by the Manufacturing Skill Standards Council (MSSC).
---
Students will prepare and sit for two Manufacturing Skill Standards Council (MSSC) Certified Production Technician (CPT) exams: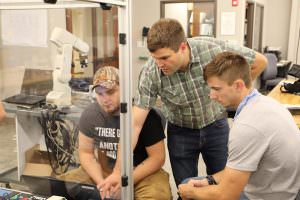 MSSC Safety CPT Exam:

Perform safety and environmental inspections and emergency drills and participate in emergency teams.
Identify unsafe conditions and take corrective action.
Provide safety orientation for all employees.
Train personnel to use equipment safely. Suggest processes and procedures that support safety of work environment.
Fulfill safety and health requirements for maintenance, installation, and repair.
Monitor safe equipment and operator performance.

MSSC Quality Practices and Measurement CPT Exam:

Participate in periodic internal quality audit activities.
Check calibration of gauges and other data collection equipment.
Suggest continuous improvements.
Inspect materials and product/process at all stages to ensure they meet specifications.
Document the results of quality tests. Communicate quality problems.
Take corrective actions to restore or maintain quality.
Record process outcomes and trends.
Identify fundamentals of blueprint reading.
Use common measurement systems and precision measurement tools.

Students will also be trained to prepare for the OSHA 10-Hour General Industry credential.
---
Sign up today!  The program is provided at NO COST to eligible students.
Contact:
Melissa Richards
636.649.5806