Early College Academy
---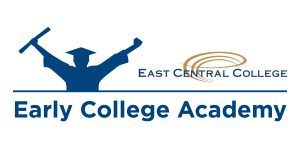 In Fall 2020, ECC began enrolling students into the Early College Academy (ECA). Students attend ECA for two years, replacing (or augmenting) junior and senior years of traditional high school. While in the ECA, students are enrolled in a curriculum consisting of all college coursework taught by professors at ECC. Upon successful completion, students earn up to an associate's degree, as well as a high school diploma.
Participating Schools & First Year of Participation

2020 – Union High School
2021 – St. Clair, Sullivan, and Washington High School
2023 – Bourbon and Cuba High School
Admissions Requirements
Students obtain and complete a program application with their high school guidance office and an ECC Application for Admission. Students with a GPA lower than 2.5 are not eligible to participate. Prospective students apply to the ECA during their sophomore year (10th grade) in high school.
The ECA Selection Committee is made up of high school staff. They review the overall picture of a student's academic performance by considering the following:
Minimum cumulative GPA of 2.50 or higher and ECC Accuplacer college-ready scores – testing into English Composition I and Contemporary Math or College Algebra. GPA is based on three semesters of attendance – freshman year and first term of sophomore year. The ACT/SAT may be utilized for placement if taken; however, the ACT/SAT test is not required.
Official student disciplinary record and attendance record from school.
A personal statement and essays, written by the student.
A signed agreement to abide by the expectations and responsibilities of the Early College Academy.
FAQs
Q. What are the responsibilities of an ECA Student?
A: ECA Students have many responsibilities, including but not limited to:
Students will be responsible for their own transportation to and from ECC.
Students will follow the ECC academic calendar and are required to be in attendance for all classes.
The School District will cover the tuition, fees, and books for college classes, each semester, up to sixty (60) credits. Students are expected to return books at the end of the semester.  All personal items such as tools, uniforms etc… will be purchased by the student/parents.
Students are required to maintain passing grades (C or better) in all classes.
Students may return to the high school for extracurricular activities, including sports.
Students must attend a class on campus at the high school and meet Missouri State High School Activities Association (MSHAA) eligibility requirements to participate in activities.
Q: What will a student's schedule look like?
A: Students will follow the existing ECC Course Schedule and will be in class with adult students and high school students from other schools. This may include in-person Monday & Wednesday classes, in-person Tuesday & Thursday classes, online classes, and/or some combination of both. Attendance will be taken and reports sent to the high school on a regular basis.
Q: What resources do students have access to at ECC?
A: Students will have access to all of the same resources as other students on campus, including the Learning Center – which includes free tutoring, Library, student clubs, and activities.
Q: Are there any program specific requirements while enrolled?
A: Students will enroll in courses listed on their chosen college degree plan, including any directed electives required by the school district, to meet high school graduation requirements. Students who are accepted into the program will be required to attend orientation and registration dates provided at the college, as well as mandatory enrollment into a one-credit hour seminar course during the 1st and 3rd semesters of enrollment. The first semester seminar will cover topics related to becoming a successful college student and major/career exploration. The third semester seminar will cover transitioning successfully to a transfer institution or the workplace. ECA students are expected to be responsive to all communication from the college. Students will also be invited to share their experiences from time to time via email, online forums, or at in-person public/outreach events. Participation is encouraged but not required for public/outreach events.
Q: Do graduates of this program still qualify for A+ benefits?
A: The short answer is no. The A+ program is designed to help students obtain their first college credential, such as a certificate or associate's degree, which is what students will already have upon graduation from this program. ECA students actually benefit from additional funding because A+ does not cover books and course specific fees. In ECA, all tuition, fees, and books are paid for by the high school or waived by ECC. ECC and the high schools still recommends that students who are able to complete the A+ requirements still do so, whenever possible. Smaller scholarship opportunities may still be available to students who are marked as A+ at four-year institutions. Also, it is a backup plan if the ECA program does not work out for a student.
Q: Will students have more work?
A: Students should be aware that the college curriculum will be somewhat different than at the high school curriculum and will require several additional hours outside of in-class sessions spend on homework, group activities, and other related items. It is up to students to manage their time and seek out additional campus resources as needed.
Q: What should a student know about transferring to a four-year school after completing this program at ECC?
A: Students will accumulate a significant number of college credits and may not qualify for first-time freshmen scholarships at four-year institutions after graduation, as they may be seen as transfer students. It is up to each transfer institution how students will be viewed as far as scholarship consideration, and those decisions can evolve over time. Several four-year institutions recommend that students do not take any courses after high school graduation (ex. summer before transferring), so they can still count students in for freshmen scholarship consideration. Freshmen scholarships are often larger than transfer scholarships, which is why this is so important. In addition, residency requirements at four-year institutions may dictate that students live on campus, even if they are considered juniors by credit hours attained. If these are points of concern, students should research further – prior to enrollment in ECC.
Students who enroll in Associate of Arts programs will be taking many Core 42, transfer-friendly, general education courses. These courses are transferable to any public institution in the state of Missouri. Students who plan to attend private school or out-of-state institutions should check with those institutions regarding acceptance of credit. Also, some public institutions have specific program requirements and guidelines. Students who enroll in Career Technical programs are taking courses designed to prepare them for the workforce, so many courses will not be transferable.
Q: What are the overall expectations of the program?
A. All students and parents/guardians will sign an agreement with the expectations below:
Academic Expectations: I will assist my child by encouraging satisfactory academic progress (GPA), academic integrity and attendance – making sure they are on time to all classes
Attendance Expectations: I understand that my child is required to provide his/her own transportation to and from ECC and that he/she will report to class on time and regularly, as scheduled by ECC and the high school. Depending on growth of the program, transportation by the district may be possible in the future, but it is not available at this time.
Behavioral Expectations: I understand that my child is required to adhere to the ECC and the high school's Student Codes of Conduct, behavioral policies and regulations at all times.
Financial Expectations: I understand that I am responsible to repay any tuition, fees, and book costs, should my child make a D, F, W, WX in a course, not complete the two-year program, or other financial obligations not covered by other sources; i.e. food and transportation to and from campus.
Program Completion: Students are expected to complete the program, graduating with a high school diploma and college degree.
Family Education Rights & Privacy Act (FERPA) Permission: All students and parents/guardians will be required to sign an agreement that all academic and financial information can be shared freely between students and their parents/guardians, the high school district, ECC administrators, ECC faculty/staff.