Theatre
---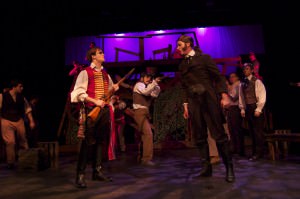 The AA in Theatre is an associate degree in general studies with an emphasis on either speech or theatre that is designed to allow the student to transfer courses in the degree to any state university. The communications field is wide and varied as it can relate to business, retail, public relations, journalism, law, and English. Elective courses included but not limited to in this study are Introduction to Mass Media Communications, Public Speaking, Oral Communications, News and Feature Writing, Introduction to Logic, Ethics, Diversity in the Media, Introduction to Film Studies, Theatre Appreciation, Fiction to Film, Human Relations, and International Relations.
Theatre offers students courses that afford them opportunities to learn in class and work on stage, backstage, and in the scene shop. The main stage community theatre schedules 5 stage shows per year that include three musicals affording a student ample opportunities to audition and work in a variety of stage settings including the full stage productions, readers theatre, an actor's showcase, and black box. Courses offered transfer to most universities as entry-level course work offering the student valuable skill sets, vocabulary, history, and hands-on experience. Click here to visit our ECC Theatre Website>>
It is our philosophy that training in the performing arts develops imagination, critical thinking, problem-solving, and communication skills that prepare students for all fields. Department productions enable students and the community to pursue lifelong learning by exploring the forms of expressions through which we interpret ourselves and the world. Elective courses included in the study of theatre are Acting I and II, Beginning and Intermediate Directing, Theatre Practicum Drama and Theatre Practicum Musical Production, Theatre Appreciation, Introduction to Film Studies, Drama as Literature, and Introduction to Shakespeare.
Common Learning Objectives:
Practice ethical responsibility when working with others.
Emphasize the need for effective collaboration with others involved in the production process mastering vocabulary in all areas of design, directing, acting, and technical communication.
Master creative thinking through learned skill sets and utilize critical thinking to analyze the work created as necessary for a team production approach.
Theatre, AA Program Learning Outcomes
Transfer Opportunities: Earning an Associate of Arts degree will ensure a smoother transfer as a junior to a Missouri state university and to most private universities in studies for the performing arts or technical theatre. The general education and theatre courses are designed to provide easy transfer to fulfill your freshman/sophomore course requirements. In speech your general education courses transfer and most of your electives if you select them under advisement from the transfer institution. In all cases, it is absolutely necessary to seek advisement directly from your transfer institution to ensure that you are fulfilling the proper requirements.
Department Links
Additional Information: