Heating, Ventilation, AC/R
---
Certificate of Achievement in HVAC/R
The Certificate of Achievement in HVAC/R morning students can complete this degree in two semesters. Students learn skills such as fabrication and joining techniques, basic refrigeration, heating, air conditioning, commercial refrigeration, electrical fundamentals, HVAC/R controls, and design of HVAC/R systems. In addition, students test for the EPA license. This field is a high-demand field in mid-Missouri.
Offered Mondays through Fridays, morning cohort from 8 a.m.–11:40 a.m., at ECC-Union campus.
Instructor: David DeArmond
Contact: 636-649-5821 David.DeArmond@eastcentral.edu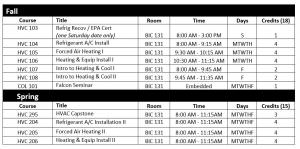 Program Eligibility
Open to High School Seniors only.
Students with a 3.0 Grade Point Average (GPA) or higher must be approved by counselor only.
Students with a 2.50 – 2.99 GPA must be given a written recommendation by a counselor or principal, as well as a parent or guardian signature to participate.
Students with a GPA below 2.50 are not eligible to participate.
Course Location
ECC Business and Industry Center
42 Prairie Dell Rd.
Union, MO 63084
Tuition and Fees
See Tier 1 Tuition & Fees.
Book Estimate for Program: $240.00
Tool Kit from Bookstore: $356.00