Industrial Maintenance
---
Certificate of Specialization: Industrial Maintenance Technology
The Certificate of Specialization in Maintenance credential is a two-semester morning program quickly preparing students to enter the workforce. Students are prepared to function as maintenance technicians and engineering assistants; installing, maintaining and programming advanced manufacturing equipment. Students learn to work with robotics, PLC's, motors, and pneumatics. Students earning this certificate can immediately enter the workforce or continue on with additional Industrial Engineering programming.  This is a high demand field in mid-Missouri.
Offered Mondays through Fridays, morning cohort from 8:30AM – 11:00AM, at ECC-Union campus.
Instructor: Nathan Esbeck
Contact: 636-649-5812 or Nathan.Esbeck@eastcentral.edu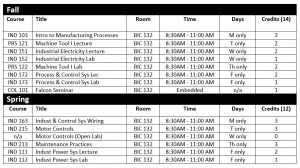 Program Eligibility
Open to High School Seniors only.
Students with a 3.0 Grade Point Average (GPA) or higher must be approved by counselor only.
Students with a 2.50 – 2.99 GPA must be given a written recommendation by a counselor or principal, as well as parent or guardian signature to participate.
Students with a GPA below 2.50 are not eligible to participate.
Cost
See Tier 2 Tuition & Fees.
Book Estimate for Program: $700.00.
No additional tool purchase required.
Course Location
ECC Business and Industry Center
42 Prairie Dell Rd.
Union, MO 63084