Children's Collection
---
Children's Books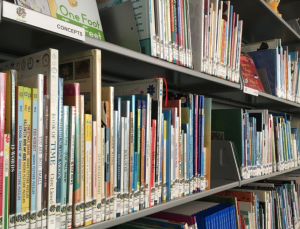 The children's collection is organized by subjects with the library's user at the center of the process; rather than pinpointing a book's subject as specifically as possible, the categories are typically broader and have been devised based on the kinds of categorizing that children of different ages do and uses the language that they use.  The library uses 19 categories ranging from adventure to award winners.  Chapter books are divided per recommended grade levels, Grades K-2, Grades 3-5, Grades 6-8 and YA (young adult).
Search for children's books using the Archway catalog, choose keyword and narrow down your location to ECC Children's.
Children's Audiobooks
The children's audiobook collection include spoken word CDs and digital audiobooks.  This is a small collection that is shelved within the print book collection per genre or age.  The children's and young adult audiobooks are shelved alphabetically by first three letters of author's last name.  These check out for 4 weeks.  Juvenile and Young Adult fiction and nonfiction digital audiobooks are available through our Overdrive subscription.
Search for children's audiobooks using the Archway catalog , choose keyword, select location of ECC Children's and select material type of Book on CD; or click this link for the complete listing and choose "Book on CD".  Search for digital audiobooks by title and select "Online Audiobook" or search Overdrive directly.

The Harrison M. Eaton Children's Collection
In February 1991, the East Central College Library received a grant from the Harrison M. Eaton Memorial Fund to expand and enhance the Library's Children's Literature Collection.  The Fund provided for the purchase of over 200 works of fiction, non-fiction, and poetry selected from winners of the prestigious Newbery Medal, Caldecott Medal, and Mark Twain awards. Additional titles were selected from librarian-recommended lists. The Harrison M. Eaton Memorial Fund provides continued support allowing for the purchase of an average of 20 children's books per year.
The Harrison M. Eaton Children's Literature Collection is vital to the mission of East Central College Library, providing reading material for children and fulfilling the reading requirement for students in the Children's Literature course which is taught as part of East Central College's Elementary Education curriculum.
The Harrison M. Eaton Fund was opened to receive memorial gifts from the many friends, relatives, and business associates of Harrison Eaton after he passed away in December 1989.  As a proponent of quality education, Mr. Eaton devoted a considerable amount of time and effort to the educational community, in particular to East Central College.  One of the organizers of the college district, he went on to serve on the college board of trustees for more than 12 years, six of those as vice-president.  Mr. Eaton was also an advocate of the East Central College Foundation of which he was a charter life director and charter life member.
The Eaton Fund provides funding for the betterment of the college through memorial projects selected by the Eaton family.
Award Winners and Nominees
Use the Archway catalog to find award winning (and nominated) children's books; enter each book award as a subject search or just click on the link for each award.
National Children's Awards by Association for Library Service to Children
Caldecott Medal:honors the artist of the most distinguished American picture book for children.
Newbery Medal: honors the author of the most distinguished contribution to American literature for children.
Theodor Seuss Geisel Award:honors the author and illustrator of the most distinguished contribution to the body of American children's literature known as beginning reader books published in the United States during the preceding year.
Belpre Medal:honors a Latino/Latina writer and illustrator who best portrays, affirms and celebrates the Latino cultural experience in literature for children and youth.
Batchelder Award:given to an American publisher for a children's book considered to be the most outstanding or those published in a foreign language and country and then translated and published in the United States.
Sibert Medal:honors authors and illustrators of the most distinguished informational book published during the preceding year.
Coretta Scott King Award: promotes understanding and appreciation of the culture of all peoples and their contribution to the realization of the American dream by African American authors.
Scott O'Dell Award: awarded to author of book on historical fiction for children or young adults, published in the preceding year.
Stonewall Book Award-Mike Morgan and Larry Romans Children's and Young Adult Literature Award: presented to works honoring exceptional merit relating to the gay/lesbian/bisexual/transgender experience.
Missouri Children's Awards 
Missouri Building Block Award: voted the most popular by preschool children in Missouri's public libraries and is designed to encourage reading aloud to children.
Show Me Award: purpose is to promote literature, literacy, and reading in grades one through three in Missouri elementary schools and to promote recognition of authors and illustrators of books that are favorites of these children.
Mark Twain Award: purpose is to provide Missouri children in grades four through eight with their very own source to enrich their lives through reading.
Truman Readers Award: encourages students in the early teen years to express their unique voice through exploring new literary genres.
Gateway Readers Award: goal is to encourage young adults (grades 9 through 12) in Missouri to select and read quality literature that appeal to their needs, interests and reading levels.

Children's DVDs
The children's DVDs and Blu-rays are shelved alphabetically by title within the feature film collection.
Search the Archway catalog by title or see our list of G rated DVDs or Blu-rays.