Checking Your Financial Aid File
---
Did you know you have to apply for Financial Aid every year? The FAFSA (Free Application for Federal Financial Student Aid) determines the types and amounts of Financial Aid you are eligible to receive every year including grants, loans, A+ and some scholarships.
To receive funding for the Fall 2020 semester, the 2020-2021 FAFSA must be completed at www.fafsa.ed.gov and you must also have a completed Financial Aid File. A randomly selected percentage of students will be asked to provide additional documents for verification —checking accuracy of information on the FAFSA—and until those documents are received and reviewed, your Financial Aid File will not be complete and you will not receive any funding.
How to check for a Completed Financial Aid File
---
Find the link to MyECC (eCentral) under the Log In dropdown button in the upper-right corner of the header. Log in to MyECC (eCentral) with the username and password provided to you by ECC.
If you have not yet reset your password, use the temporary password provided in your acceptance letter to do so.

In the Student menu in MyECC (eCentral), find the link in the Financial Aid section titled Financial Aid Self-Service. Follow that link to the Financial Aid Self-Service page in Colleague.
Choose the "2020/2021 Academic Year" in the dropdown box labeled Select an Award Year.


Incomplete Financial Aid File
If your Financial Aid File is not complete, they will be marked with an Action Needed message. Click on the message to determine what else needs to be done to complete your file.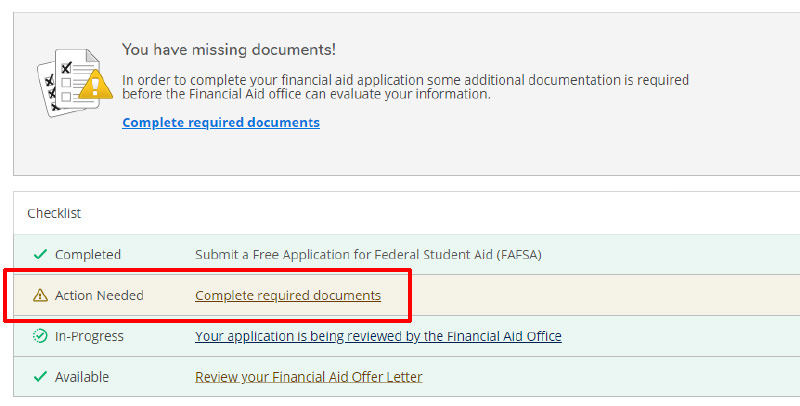 Complete Financial Aid File
If all the items in your checklist are green and marked Completed, then your Financial Aid File is complete and requires no further action!