Roster Spots, Scholarships Available for Women's Soccer Team
There are still roster spots and scholarships available for the first East Central College women's soccer team.
The ECC Falcons women's soccer inaugural season kicks off this fall under Coach Martin Clayes.
ECC Athletic Director Dr. Jay Mehrhoff said recruiting for fall sports was stalled earlier this year due to the COVID-19 pandemic, he added.
To join the team, student athletes must have graduated from high school as an incoming freshman. Sophomore players must have 24 college credit hours over a 2.0 GPA to be eligible.
"The East Central College women's soccer team plans to compete with a full roster this fall semester," Mehrhoff said. "As recruiting was slowed due to the COVID-19 shutdown, the team is still looking for players to finish out the roster."
He noted that all incoming athletes will also need to have a physical examination completed by a doctor and be ready to start meetings on Aug. 4-5 with a start for practices on Aug. 11. Scholarship possibilities still exist for qualified individuals.
Women soccer players can contact Coach Clayes at martin.clayes@eastcentral.edu to discuss the opportunity of becoming a Falcon this fall.
In December 2019, the ECC Board of Trustees voted to add women's soccer and bring back men's baseball to ECC's athletic offerings.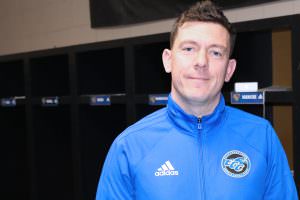 Clayes was named the new, full-time combined men's and women's head soccer coach at ECC in February.
He moved from his previous position as head men's soccer coach at St. Louis Community College, where he won the 2019 NJCAA Region 16 Men's DI Soccer Tournament in his first year in the position.
A native of Scotland, Clayes came to the United States on a soccer scholarship to Truman State University where he was a member of the Bulldogs soccer squad during their most successful run in school history.
For more information about ECC or to apply, visit www.eastcentral.edu/virtual-ecc.
Click below for a physical exam form.